Hoops Rumors is looking ahead to offseason moves for all 30 teams. We'll examine free agency, the draft, trades and other key storylines for each franchise as the summer approaches.
State Of The Franchise
On the heels of a championship season in 2014/15, the Warriors had another outstanding run this past year, right up until the final few minutes of Game 7 of the NBA Finals, when the team couldn't find the basket, and failed to put a bow on its record-setting, 73-win season.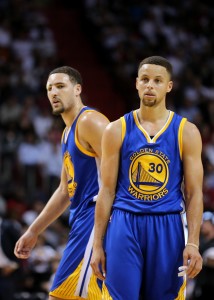 It was a disappointing end to an otherwise magical season, and there were no shortage of possible explanations for the Warriors' inability to close out the Cavaliers in a series they led three games to one. If it hadn't been for Draymond Green's suspension, Andrew Bogut's injury, or even Stephen Curry's health issues, which may have limited him a little in the postseason, the series might have ended differently.
Still, the Warriors' decision-makers aren't the types who will rely on better luck next season. Golden State's front office is proactive and aggressive, and won't be shy about pushing to improve the roster for 2016/17. After all, this year's squad won 73 regular-season games, not 82 — there still could be room to get better.
Pursuing Another MVP
Curry has won the last two NBA MVP awards, but Golden State's offseason may focus on the guy who won the award before him. Multiple reports have indicated that the Warriors are expected to make a major push for Kevin Durant, who is set to become an unrestricted free agent for the first time.
The Thunder, who pushed the Warriors to the brink in the Western Conference Finals, remain the odds-on favorites to retain Durant, who seems more likely to head into the summer hoping to beat Golden State rather than to join them. but if KD does want a change of scenery, the Warriors could certainly make a compelling pitch. A recent report indicated that the Warriors are viewed as the biggest threat to OKC as Durant prepares to meet with potential suitors.
With more than $71MM in guaranteed contracts for 2016/17, the Warriors won't have the cap room necessary to offer Durant a max contract unless the cap greatly exceeds the projected $94MM figure, and working out a sign-and-trade with the rival Thunder seems unlikely. Still, outside of Curry, Green, and Klay Thompson, Golden State would surely be willing to part with any of its current players to land Durant. Bogut and Andre Iguodala, who are each entering contract years and are on the books for $11MM+ apiece next season, would probably be the prime candidates to be moved in that scenario.
Other Free Agent Targets
If the Warriors don't land Durant, they'll have plenty of alternate targets on their shopping list. A forward who can shoot makes the most sense for Golden State, which could ultimately lead the team back to restricted free agent Harrison Barnes.
Barnes' performance in the Finals, where he struggled mightily with his shooting touch, was a worrisome sign for a player who could be looking at a maximum-salary offer sheet this offseason. It appeared at one point that Golden State would match any rival offer Barnes received, but that's not quite so certain now. If Barnes does sign an offer sheet from another team, the Warriors will have a few days to make their decision on whether or not to match it, so that could allow the team to explore the market to see if there are more appealing options out there.
One of those options may be Dirk Nowitzki, whom the Warriors reportedly intend to call once free agency begins. I would be shocked if Nowitzki, a Maverick since 1998, left Dallas, but there's no reason Golden State shouldn't take a shot. It's hard to imagine any free agent who wouldn't have at least some interest in joining a team coming off a 73-9 season.
Whether or not the Warriors are able to land a big fish in free agency, the club also figures to focus on retooling its bench. Like Barnes, Festus Ezeli and Ian Clark are restricted free agents, while Marreese Speights, Leandro Barbosa, Brandon Rush, and Anderson Varejao are eligible for unrestricted free agency.
It's possible that Ezeli will be retained if his price doesn't get too high, and a couple of those veterans could be back on minimum-salary deals. But I'd expect the Warriors to let some of those players walk, then use any leftover cap room or exceptions to focus on upgrading its bench, adding players to complement Iguodala and Shaun Livingston on the second unit.
Draft Outlook
First-round picks: 30th

Second-round picks: None
Of course, with so many veterans facing free agency, one path for the Warriors to address their bench is through the draft. The 30th overall pick is actually a very nice asset to have this season, given the rising salary cap. The draft's final first-rounder will likely sign a four-year contract worth less than $6MM, including a first-year salary of about $1.17MM, as we outlined here. Talented young players don't come much more affordably than that — we could even see some second-round picks sign bigger deals than that.
With 29 prospects off the board ahead of their pick, the Warriors are unlikely to land an impact player at No. 30, but if several teams select draft-and-stash players ahead of them, it could make sense for the Dubs to grab a player who can join the roster immediately.
Many mock drafts agree with that approach, suggesting that Golden State could swap out a departing veteran free agent for a young replacement. In their latest mocks, ESPN's Chad Ford and Jonathan Givony of DraftExpress.com have the Warriors addressing the center position, picking Damian Jones (Vanderbilt) and Diamond Stone (Maryland), respectively. Our own mock draft has Golden State adding depth at the two spot by nabbing Patrick McCaw (UNLV).
Planning For Steph's Raise
Curry is currently one of the NBA's best bargains, having signed a four-year, $44MM extension with the Warriors in 2012. That deal will expire after the 2016/17 season, and it's virtually a given that the club will offer Curry a max contract – in terms of both dollars and years – at that time.
Assuming Curry remains in Golden State, that means his salary will more than double for the 2017/18 season. With the cap increasing and only Thompson and Green currently on guaranteed contracts beyond 2017, the Warriors should be in great shape to accommodate that huge raise. But it's still somethings worth taking into account as they pursue free agents this summer, since the cap is expected to level out somewhat, beginning in 2018.
Final Take
The Warriors have vowed to be aggressive this offseason, and given what an appealing destination Golden State is, I'd expect plenty of free agents to be linked to the team in the coming weeks. Nonetheless, it will be a challenge to lure top targets like Durant and Nowitzki, who have only played for one team for their entire careers, to the Bay Area.
If the Warriors are unable to land one of those top free agents, re-signing Barnes and making a few changes to their bench isn't a bad Plan B. Considering the team was just one quarter away from its second consecutive championship, it should be a legit title contender again in 2016/17, even without making a huge splash.
Guaranteed Salary
Klay Thompson ($16,663,575)
Draymond Green ($15,330,435)
Stephen Curry ($12,112,359)
Andre Iguodala ($11,131,368)
Andrew Bogut ($11,027,027)
Shaun Livingston ($3,000,000) — Partial guarantee; non-guaranteed portion listed below1
Kevon Looney ($1,182,840)
(Jason Thompson $945,126) — Salary remaining from release via stretch provision
Total: $71,392,730

Player Options
Team Options
Non-Guaranteed Salary
Shaun Livingston ($2,782,450) — Partial guarantee; guaranteed portion listed above1
Restricted Free Agents (Qualifying Offers/Cap Holds)
Harrison Barnes ($5,194,227/$9,683,495)
Festus Ezeli ($3,013,123/$5,021,870)
Ian Clark ($1,215,696/$1,215,696)
James Michael McAdoo ($1,180,431/$1,180,431)
Totals: $10,603,477/$17,101,492

Unrestricted Free Agents (Cap Holds)
Other Cap Holds
Projected Salary Cap: $92,000,000
Footnotes:
Livingston's full $5,782,450 salary will become guaranteed if he's still on the roster beyond June 30th.
The Basketball Insiders salary pages were used in the creation of this post. Photo courtesy of USA Today Sports Images.