Over the next several weeks, Hoops Rumors will be breaking down the 2016 offseason for all 30 NBA teams, revisiting the summer's free agent signings, trades, draft picks, departures, and more. We'll evaluate each team's moves from the last several months and look ahead to what the 2016/17 season holds for all 30 franchises. Today, we're focusing on the Philadelphia 76ers.
Free agent signings:
Draft-and-stash signings:
Camp invitees:
Trades:
Draft picks:
Departing players:
Other offseason news:
---
Check out our salary cap snapshot for the Philadelphia 76ers right here.
---
The 2016 offseason brought optimism to the city of Philadelphia. The Sixers won the NBA lottery and landed the franchise player they had been patiently waiting for. Now, after a three-year tanking spree in which the team won just 47 games, it will take a step forward in its quest to move up the standings and become a true title contender.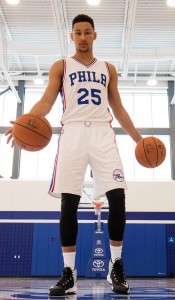 The Sixers will go as far as Ben Simmons will take them and he has the potential to achieve great things with this team. Simmons had an excellent Summer League and was the favorite to win the rookie of the year award before he fractured a bone in his right foot last week.
The city is numb to terrible basketball news, with Simmons' injury representing the latest instance of a top draft pick being unable to take the court to begin his first NBA season. Nerlens Noel missed his rookie campaign because of a knee injury and Joel Embiid missed his first two seasons with a foot injury. "There is nobody, sadly, that's had more experience dealing with injured draft picks than we have." coach Brett Brown said to Comcast Sportsnet. "Over the course of time, you learn how to best deal with it. I have seen this every year I've been here."
Simmons will likely undergo surgery and he is expected to miss three months of action following the procedure. Still, the team remains optimistic, as there is chatter about how Simmons' extended absence will allow him to sit in a chair and re-make his jumpshot (hat tip to Jessica Camerato of CSN Philly).
The loss of Simmons will open up playing time for Dario Saric, as well as allow Joel Embiid to get more run at the power forward position. Embiid declared himself healthy toward the end of the summer and he has looked explosive in many of the videos of him working out, which he released on his Twitter feed. Like Simmons, Embiid has the potential to be the team's franchise player. He could become one of the league's best bigs or he could continue to struggle to stay on the court — no outcome would be particularly surprising for the Cameroon native.
Over the long term, Embiid should play center. However, he'll likely spend much of his rookie campaign playing the four so the team can evaluate how he meshes as a frontcourt partner with either Jahlil Okafor or Noel. The team already knows the Noel-Okafor pairing doesn't work. It was disastrous last season, as Philadelphia was outscored by 18.7 points per 100 possessions when the duo shared the floor together. That figure was the worst in the league for any pair of teammates that didn't include Roy Hibbert (the Hibbert-Kobe Bryant combination was the worst in the league, followed by the Hibbert-Julius Randle combo).
There was speculation all summer suggesting Philadelphia would move one of its centers in a deal, but nothing materialized, which leaves a logjam at the center position. In the days leading up to training camp, Noel called the logjam "silly" and added that he doesn't see "any way of it working." While Noel didn't demand a trade, I'll speculate that he's the player the Sixers will ship out, should they make a deal. With all three centers on their rookie deals, Philadelphia doesn't necessarily have to make a trade right now, though Noel is currently eligible for an extension. President of basketball operations Bryan Colangelo insisted that the team isn't in a rush to make any moves and it's likely the the health of Embiid will dictate if and when a deal is made.
The atmosphere surrounding the team will be a little different this year after Colangelo added several veterans, something that pleases coach Brown. New addition Sergio Rodriguez, who has 10 years of professional basketball experience, has impressed the head coach thus far in camp. "He just has a real gift for understanding especially offensive tempo," Brown said. Rodriguez will compete with new addition Jerryd Bayless for the team's starting point guard position, but both players will see plenty of minutes and how they run the offense will be paramount to the development of the team's young frontcourt.
The addition of a few veterans helps ensure that Brown will have a full rotation of NBA-caliber players at his disposal, something that the franchise hasn't had for a few seasons. While those acquisitions are nice, they won't help the team drastically improve in the win column. Philadelphia could have gambled on young talent with much more upside in free agency — Harrison Barnes was a feasible option, as I discussed in the team's Offseason Outlook. Instead, Colangelo resisted throwing huge sums of money at non-stars, resulting in a conservative summer overall for the new administration.
The 2015/16 Sixers lost 39 games by 10 points or more and only managed to win a total of 10 games. The Colangelo administration responded to the historic campaign with an impressive, meticulous offseason that started with the drafting of Simmons. This season, Philly will likely be on the losing end of blowouts less often, and the club should be able to bring home somewhere between 20 and 30 wins. It may be a modest step forward, but the team looks to have a bright future, with a more defined direction than in previous years.
Salary information from Basketball Insiders used in the creation of this post. Photo courtesy of USA Today Sports Images.