Hoops Rumors is looking ahead to offseason moves for all 30 teams. We'll examine free agency, the draft, trades and other key storylines for each franchise as the summer approaches.
R.I.P. The Process (2013-2016)
After implementing one of the most unorthodox strategies in recent memory, the Sixers brought in Jerry Colangelo to be the team's chairman of basketball operations. That was followed by Sam Hinkie stepping down with a glorious 13-page resignation letter, although some would say he was pushed out.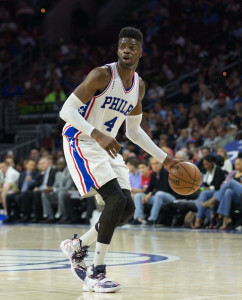 Hinkie didn't produce wins, as the team only won 47 games during his three seasons as the GM (six teams in the Eastern Conference won more than 47 games this season).  However, winning games during his first few seasons was never the goal. Hinkie's focus was constructing a team that could grow and consistently compete for titles, yet there are not many pieces to that quixotic team on the current roster. The upcoming draft should provide at least more foundational piece, but even if Ben Simmons is the next coming of LeBron James, Philadelphia isn't going claim a seat at the title contenders' table during the next several seasons given the time it takes even the best prospects to elevate their franchise.
That being said, Hinkie's tenure should not be considered a failure. He restocked a cupboard that was barren after the ill-fated Andrew Bynum deal and advocates of Hinkie will tell you that he never lost a trade. From the Jrue Holiday trade to the fleecing of the Kings, every deal put the franchise in a better position at least in the long-term. Nevertheless, the team's array of first and second round picks does Hinkie no good while he's sitting on his couch.
Colangelo has since shuffled into an advisory role and the team named his son the president of basketball operations and GM. Bryan Colangelo will begin his tenure with as much ammunition as one could reasonably ask for when taking over a struggling franchise.
Draft Outlook
First-round picks: 1st, 24th, 26th
Second-round picks: None
It will be shocking if the Sixers don't select Simmons with the No.1 overall pick. The 19-year-old seems to be the favorite of coach Brett Brown and with his arsenal of skills, it's easy to see why Simmons should be the pick. He's a natural on the hardwood with the court vision of a seasoned point guard, as I detailed in my Prospect Profile of the former LSU Tiger. That, combined with his 6″10″, 240lb frame, gives him the ability to play any position on the floor.
Philadelphia will have more of a dilemma with the 24th and 26th picks. The team doesn't have any young promising players in its backcourt, so adding a play-maker or two should be an objective. Demetrius Jackson or Tyler Ulis could be options. Dejounte Murray would be a nice pick if he's not selected before the end of the first round. Murray will need some time to develop, but unless Colangelo brings in a batch of veterans, there will be minutes available to allow his game to grow.
The team doesn't have a second round pick because of the 2012 draft night trade that brought in Arnett Moultrie. Moultrie trudged through two seasons in Philadelphia before being traded to the Knicks.
Potential Trades
The team could pick up one more draft pick if they decide to trade Jahlil Okafor to the Celtics in exchange for the No.3 pick. In that scenario, Jamal Murray has a great chance to be the selection. The Sixers reportedly believe he has more upside than anyone in the draft and he would be a nice fit for the team, as I wrote in my Prospect Profile of the 19-year-old.
Philadelphia has shopped Okafor and Nerlens Noel to approximately 15 teams, per Keith Pompey of the Philadelphia Inquirer. The front office seems dedicated to having a more balanced roster to start the 2016/17 campaign and trading one of their healthy big men would help achieve that goal.
The rumored Jeff Teague-Noel deal would give them a solid starter at the point guard position. Teague only has one year at $8MM left on his current deal and giving up Noel for a player who can bolt so soon certainly carries risk. However, if you examine the chain of events leading up to this potential trade, it's an easier risk to take. During the 2013 draft, Philly traded Holiday for Noel and the pick that it used to acquire the rights to Dario Saric. Now, nearly three years later, the team ponders trading Noel for Teague, who has proved to be a better player than Holiday. That would be net win considering the Sixers still have the rights to Saric and they arn't getting a vastly superior player in exchange for the offensively challenged center.
Derrick Rose is another option for the team to consider should the Bulls look to deal him. As I wrote in Okafor's Trade Candidate piece, Philadelphia would give Rose a comfortable situation to re-establish himself as a star in this league. Trading a package headlined by Rose may not be enough for the Bulls to bring Okafor to Chicago, but some version of a Noel-Rose deal makes sense for both sides.
Free Agent Targets
With only slightly over $24.5MM in guaranteed salary on the books against a projected $92MM salary cap, the Sixers will likely be more involved in free agency this offseason than in previous years. That figure doesn't include the non-guaranteed salaries for Robert Covington, Kendall Marshall, Jerami Grant and T.J. McConnell. All four have a good chance to be with the team next season, although Covington reportedly could be dealt to Atlanta in a Teague trade and McConnell or Marshall could be waived if the team brings aboard a point guard or two. Still, even it keeps all four and factoring in the team's cap holds, Philly will have somewhere north of $46.8MM in available cap space.
Harrison Barnes would be a nice addition and it looks as if giving him a four year max contract will be necessary if an opposing team is going to lure him away from Golden State. The exact figure on Barnes' potential max deal won't be determined until July since the maximum salary is tied to the salary cap. The first year of a contract for a player with 4 years experience is roughly 25% of the salary cap. If we use the projected $92MM as that figure, Barnes would make an estimated $23MM during the 2016/17 and slightly under $98.4MM over the four seasons of his max deal. That's not an ideal contract, but Philadelphia can afford to make such an offer because it doesn't have any pricey long-term contracts on the books. Also, this offseason is the time to make that kind of risky offer. A potential max deal for Barnes or any free agent would coincide with a rookie deal for Simmons, who can make roughly $5.9MM next season. Simmons' deal, which could pay him approximately $26.6MM over the next four seasons if selected with the No.1 pick, will immediately be one of the best deals in the NBA because of the cost controlled nature of rookie scale deals. Paying $28.9MM or slightly over 31.4% of your salary cap to Simmons and Barnes doesn't appear as preposterous when you view the deals as a combined unit.
Joel Embiid's Health
Embiid has yet to play a minute of action since entering the NBA. He likely wont take part in summer league, as the team doesn't want to take any chance that he won't be ready for the 2016/17 campaign due to a setback. That sounds dreary, but the big man did look good in pregame drills during the latter half of last season when no one was defending him. Stay tuned.
Final Take
After years of trying, the Sixers actually landed the top overall pick and who they select with the pick will shape the franchise for years to come (Surely, there is a chance they select Brandon Ingram, but realistically speaking, Simmons will be the pick). How they decide to surround the No. 1 overall pick will determine how soon they are ready to compete. The team will produce more wins during the 2016/17 campaign than this past season, but that will be more of a testament to how bad Philly was over the last year and how the front office strategy has changed than how good the team actually will be. The future is bright in Philadelphia, but season ticket holders shouldn't need to allocate funds for playoff tickets just yet.
Guaranteed Salary
Carl Landry ($6,500,000)
Joel Embiid ($4,826,160)
Jahlil Okafor ($4,788,840)
Nerlens Noel ($4,384,490)
Nik Stauskas ($2,993,040)
Richaun Holmes ($1,025,831)
Total: $24,518,361

Player Options
Team Options
Hollis Thompson ($1,015,696) — salary non-guaranteed even if option picked up
Non-Guaranteed Salary
Restricted Free Agents (Qualifying Offers/Cap Holds)
Isaiah Canaan ($1,215,696/$1,799,824)
Christian Wood ($1,045,059/$1,045,059)
Totals: $2,260,755/$2,844,883
Unrestricted Free Agents (Cap Holds)
Other Cap Holds
No. 1 pick ($4,919,300)
Dario Saric ($1,931,900)
No. 24 pick ($1,105,800)
No. 26 pick ($1,026,300)
Charles Jenkins ($980,431)
Byron Mullens ($980,431)
Total: $10,944,162
Projected Salary Cap: $92,000,000