With the 2016/17 NBA regular season in the books, we're making our picks for the year's major awards. The Hoops Rumors writing team has weighed in with our selections below, but we also want to know which players, coaches, and executives you think are most deserving of the hardware this season, so jump into the comments section below to share your thoughts.
We're wrapping things up today with the award for Most Valuable Player. Here are our picks:
Arthur Hill: Russell Westbrook (Thunder)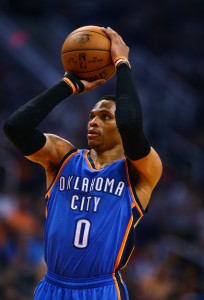 This has a chance to be one of the closest MVP votes ever. Westbrook and James Harden both turned in extraordinary seasons, and either could be a runaway winner in a normal year. The case for Harden is that the Rockets won more games than the Thunder (55 to 47) and Harden was more efficient. He led the league with 11.2 assists per game while averaging 29.1 points. His True Shooting numbers were better than Westbrook's and he put up his numbers in fewer possessions. However, by averaging a triple double, Westbrook did something that hasn't been accomplished in 55 seasons. He also displayed his value in the offseason, agreeing to an extension when it looked like the Thunder might crumble after losing Kevin Durant. Harden's season was special, but Westbrook's was historic. He's the real MVP.
Austin Kent: Russell Westbrook (Thunder)
I wasn't entirely convinced that I would tip my hat in Westbrook's direction until the final weeks of the season. At the end of the day however, there were three things that, together, made giving the award to anybody else troublesome. Had Westbrook only averaged a triple-double, I would have easily been able to justify giving the award to Harden, but he did so while also leading the league in scoring and minimizing the win differential between the two teams to just eight games.
The Rockets were a better team this season and Harden has been a certifiably MVP-worthy candidate, but Westbrook obliterating league history is more deserving of recognition. Even if Westbrook has a tendency to chase stats, is fortunate enough to play with big men who aren't afraid to defer rebounds, and still barely topped a record set by somebody who didn't even know he was setting a record in the first place, what he did is among the most impressive things our generation will ever see on a basketball court. Seriously, with the exception of a hypothetically stat-crazed Miami Heat-era LeBron James, I can't think of a single player in the last 20 years who could pull off Westbrook's accomplishment even if they were, like Westbrook, hellbent on doing exactly that.
We had a handful of players who made valid cases for the MVP award this year — that part isn't up for debate. I've just decided to give the nod to the one who managed to make his case while simultaneously pulling off a feat that five years ago was virtually unimaginable.
Chris Crouse: Kawhi Leonard (Spurs)
Picking an MVP this year means splitting hairs. All are deserving, though only one can get the top vote. LeBron is the best player in the world, but his defense slipped this season and his numbers weren't as impressive as some of the other candidates. Harden nearly averaged a triple-double, but he was overshadowed by Westbrook, who accomplished the feat.
Westbrook put up unbelievable stats, though it begs the question: is one star more valuable than another because of opportunity? His historic usage percentage (41.7%) allowed him to put up historic numbers. Westbrook took nearly 2,000 shots this year. Harden took 1,533, while James and Leonard put up roughly 1,300 apiece. Westbrook basically did what Drew Brees has been doing in the NFL over the last several seasons: achieve major statistical milestones as a result of opportunity without elevating his team to greatness. Brees hasn't won the MVP award because voters realize it's a passing league, and with the NBA trending toward high-pace-and-space style offenses, I think we'll find that tremendous stats will become the new normal in this league.
Leonard didn't put up gaudy stat lines as frequently as the other candidates, but he didn't cost his team as many possessions either. Leonard had only 154 turnovers on the season. Westbrook gave the ball to the other team 438 times. Harden did it a league-worst 464 times. LBJ had 303 turnovers himself. And it's not like Leonard had the ball that much less than some of the other candidates (Leonard had a 31.1 usage percentage, while Harden had 34.2 and James had 30.0). Having also factored in Leonard's efficiency, Win Shares (he's second in the league in WS per 48 minutes behind only Kevin Durant) and suffocating defense, I have to go with the San Antonio star in this extremely tight race for MVP.
Dana Gauruder: Russell Westbrook (Thunder)
I can't fault anyone who favors Harden. He also had a spectacular season after changing his role. What Westbrook did – averaging a triple-double – is mind-boggling in an era where star players routinely take nights off. The Thunder needed him to dominate virtually every night to make the playoffs and he delivered.
Luke Adams: Russell Westbrook (Thunder)
A common argument in the case for Harden over Westbrook is the fact that the Rockets exceeded their expectations in 2016/17 by a greater margin than the Thunder did. That's true, but that's only because expectations for Westbrook in Oklahoma City's post-Durant era were sky high. We expected Westbrook to go on a rampage and put up massive numbers like he did during Durant's absence in 2014/15 — we weren't sure what to expect from Harden and the Rockets after a disastrous 2015/16 season.
The fact that Westbrook still managed to exceed our expectations this season is one reason why he deserves the Most Valuable Player award. He also made huge shots in clutch situations time after time, and managed to carry a roster that was dead-last in the NBA in outside shooting (.327 3PT%, including .321 for players besides Westbrook) to a No. 6 seed in the Western Conference. And, yeah, he averaged a triple-double too. Incredible seasons from Harden, Leonard, and LeBron made this decision a brutal one, but Westbrook deserves the MVP nod for a singular performance that we'll remember for years to come.
Who is your pick for Most Valuable Player? Share your choices and your thoughts in the comments section below!
Previously:
April 13: Executive of the Year
April 14: Coach of the Year
April 17: Most Improved Player
April 18: Sixth Man of the Year
April 19: Defensive Player of the Year
April 20: Rookie of the Year
Photo courtesy of USA Today Sports Images.