As expected, the Trail Blazers have waived Andrew Nicholson from their roster, ESPN's Adrian Wojnarowski reports. According to Wojnarowski, Portland will use the stretch provision on Nicholson, spreading out his remaining salary across the next seven years. The Blazers confirmed this afternoon that Nicholson has been waived (Twitter link).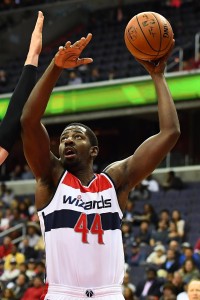 Nicholson, 27, was a beneficiary of the 2016 salary cap spike, having inked a four-year, $26MM contract with the Wizards during free agency last summer. After signing that deal, Nicholson endured his worst season as a pro, appearing in just 28 games for Washington and averaging 2.5 PPG and 1.2 RPG in 8.3 minutes per contest.
Nicholson was included as a salary dump in a deadline deal with the Nets in February, and ultimately finished the 2016/17 season with averages of 2.6 PPG and 1.6 RPG to go along with a .387 FG% in 38 games. Those numbers were all career worsts.
Earlier this offseason, Nicholson was once again included in a trade as a salary dump, making his way from the Nets to the Trail Blazers in the swap that sent Allen Crabbe to Brooklyn. Reports at the time indicated that Portland would waive and stretch Nicholson, but the team didn't make it official for more than a month.
As we detailed earlier today, waiving Nicholson before the end of August allows the Blazers to reduce his 2017/18 cap hit by more than $3.5MM, which also slashes the club's projected year-end luxury tax bill by more than $5MM. Nicholson will now count against Portland's cap for about $2.844MM for the next seven seasons.
Once he clears waivers, Nicholson will be free to sign with any NBA team except for the Blazers or Nets.
Photo courtesy of USA Today Sports Images.