FEBRUARY 8: Now that the trade deadline has passed without the Celtics needing to use their open roster spot, the team has made Monroe's signing official.
FEBRUARY 2: Veteran center Greg Monroe will sign with the Celtics after he becomes a free agent this weekend, a league source tells ESPN's Adrian Wojnarowski (via Twitter). Monroe, bought out and waived by the Suns on Thursday, is on track to clear waivers on Saturday.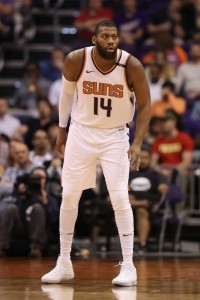 [RELATED: Suns buy out Greg Monroe]
The Celtics and Pelicans were believed to be the frontrunners for Monroe, a New Orleans native. According to Wojnarowski (via Twitter), the Pels offered Monroe the opportunity to be their starting center, but the big man will instead head to Boston, where he'll have fewer guaranteed minutes, but a better chance to win a title.
Monroe will also be well compensated on his new deal with the Celtics, as Wojnarowski tweets that the one-year contract will be worth $5MM. That's more than the Pelicans could offer, with Boston taking advantage of its extra flexibility by using its disabled player exception to reach an agreement with Monroe.
Even though the Celtics' disabled player exception – awarded after Gordon Hayward went down in the team's season opener – is worth $8.4MM, the DPE can only be used once, so the team won't have the remaining $3.4MM available. Still, Boston plans to continue exploring the market for a perimeter scorer, according to Chris Mannix of Yahoo Sports, who cautions (via Twitter) that the front office is reluctant to part with a first-round pick.
Monroe, who opened the season in Milwaukee, was sent to the Suns in the fall for salary-matching purposes as part of the Bucks' trade for Eric Bledsoe. The 27-year-old saw inconsistent minutes in Phoenix as he battled fellow centers Tyson Chandler and Alex Len for playing time.
Although Monroe has had his role reduced and has only appeared in 25 games this year, he has continued to be very effective on a per-minute basis, averaging 10.4 PPG and 7.4 RPG with a .601 FG% in 21.8 minutes per contest. He'll join a Celtics frontcourt that could use some interior scoring and rebounding help. Outside of Al Horford, no one on Boston's roster is averaging more than 5.5 RPG this season.
The Celtics are currently carrying 14 players on their roster, so they won't need to waive anyone to make room for Monroe. However, the move could be bad news for Jarell Eddie, who would have been a candidate to rejoin the C's if they still had a roster spot available after the trade deadline.
It's also worth noting that there's no rule preventing Hayward from returning to the Celtics before season's end if he's healthy enough to do so. The NBA initially awarded the C's their DPE after an independent physician determined that the injured forward was more likely than not to be sidelined through June 15. If Hayward beats that recovery timetable, Boston wouldn't be penalized at all.
As for the Pelicans, while they'll be disappointed to miss out on Monroe, they did add another frontcourt piece on Thursday, acquiring Nikola Mirotic from the Bulls. New Orleans also still has two open roster spots, so the club figures to keep an eye out for more reinforcements on the trade market or buyout market.