2:23pm: The Pistons have officially announced Casey's hiring, issuing a press release to confirm the move.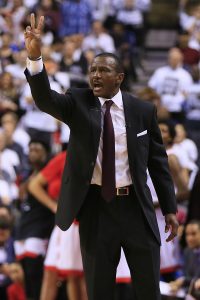 "Dwane is one of the most successful and highly respected coaches in our league," Pistons owner Tom Gores said in a statement. "He's a great communicator and a leader who will connect with our players and accelerate their growth. Having spent many hours with Dwane over the last few weeks, I'm confident he is the right person to get us to the next level.
"In our meetings he displayed great insight into what this roster can accomplish, and great passion about our city and the team's role in bringing people together," Gores continued. "He's an outstanding man with impressive character. He embodies our culture and will be a great representative for our franchise."
10:52am: The value of Casey's new deal with the Pistons is slightly above $7MM per year, according to Vince Ellis of The Detroit Free Press, who notes (via Twitter) that it's similar to the five-year, $35MM contract Van Gundy got from the club.
10:14am: The Pistons are hiring Dwane Casey as their new head coach, reports ESPN's Adrian Wojnarowski. According to Wojnarowski, Casey and the Pistons reached an agreement on a five-year contract for the former Raptors coach.
Having been on the lookout for a new coach since parting ways with Stan Van Gundy last month, the Pistons reportedly identified Casey, Spurs assistant Ime Udoka, University of Michigan coach John Beilein, and TNT analyst Kenny Smith as finalists who met with team ownership. However, Beilein withdrew from consideration and the decision appeared to come down to Casey and Udoka. Detroit opted for the candidate who has spent the last seven years as an NBA head coach.
Casey, who took over as the Raptors' head coach in 2011, became the winningest coach in team history, leading Toronto to a 320-238 (.573) regular season record during his tenure. The Raps enjoyed the best run in franchise history during the last five years, winning between 48 and 59 games each season and making five straight postseason appearances, but their playoff struggles – particularly against LeBron James and the Cavaliers – ultimately resulted in Casey's ouster.
While Casey's teams in Toronto struggled to make deep playoff runs, the veteran coach is well regarded around the NBA for his ability to help build a team's culture, develop players, and get the most out of his roster. He'll bring those traits to Detroit, where the Pistons will be looking to get back into the postseason with a roster led by Blake Griffin, Andre Drummond, and Reggie Jackson.
Casey was named the 2017/18 Coach of the Year by the National Basketball Coaches Association last month. In addition to winning that award, which was voted on by his coaching peers, Casey is a finalist for the NBA's official Coach of the Year award, voted on by media members.
The Raptors are now the only NBA team without a head coach in place.
[RELATED: 2018 NBA Head Coaching Search Tracker]
Since Van Gundy was the Pistons' president of basketball operations as well as its head coach, the franchise has also been seeking a new head of basketball ops this spring. While it may seem backwards to hire a new head coach before deciding on a new general manager, newly-hired executive Ed Stefanski led the Pistons' coaching search and figures to have a strong voice in the basketball operations department in the coming years in his special advisor role.
As they seek a new GM, the Pistons are said to be looking for a young, up-and-coming executive who is capable of being the face of the front office for the next decade. The list of candidates being considered by the club includes several men who were playing in the NBA – or another league – within the five or 10 years. Nets assistant GM Trajan Langdon, Hawks manager of basketball operations Malik Rose, TNT analyst Brent Barry, and former Pistons players Chauncey Billups and Tayshaun Prince are among the names that have surfaced in recent weeks.
Photo courtesy of USA Today Sports Images.