Veteran forward Carmelo Anthony plans to sign with the Rockets once he officially becomes a free agent, two people with knowledge of his plans tell Marc Stein of The New York Times. According to Stein, Anthony is expected to finalize a one-year, minimum-salary contract with Houston.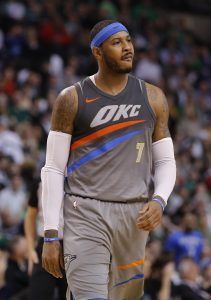 Anthony is still technically a member of the Thunder, but a three-team trade that would send him to Atlanta has been agreed upon and should be made official at some point in the coming days. The Hawks would waive the 34-year-old after acquiring him, clearing the way for him to join the Rockets 48 hours later, once he clears waivers. Due to his $27.93MM salary, there's no chance of Anthony being claimed off waivers by another team.
While Anthony reportedly drew interest from the Heat and possibly the Lakers too, the Rockets have long been considered the frontrunners for his services. Houston lost a pair of forwards in free agency earlier this month when Trevor Ariza headed to the Suns and Luc Mbah a Moute agreed to a deal with the Clippers.
Anthony isn't exactly a three-and-D wing like Ariza and Mbah a Moute are, but he'll provide the Rockets with another scorer to complement James Harden and Chris Paul. In his first and only season in Oklahoma City, Anthony averaged 16.2 PPG and 5.8 RPG with a shooting line of .404/.357/.767.
Asked on Friday about the possibility of teaming up with Anthony, Harden expressed enthusiasm about the idea, as Matt Young of The Houston Chronicle details.
"It would be a great acquisition for us," Harden said. "Melo's a proven vet. He just wants to win at this point, so it would be great for him to be on our team. The current roster we have now, we've got good guys back and we keep making forward progress."
For Anthony, joining the Rockets will mean reuniting with Mike D'Antoni, who previous coached the 10-time All-Star in New York. The two men had a rocky relationship during their time together with the Knicks, but recent reports have indicated that D'Antoni welcomes the chance to coach Anthony again, having made it clear during a meeting earlier this month that the circumstances would be much different this time around.
By signing Anthony to a minimum-salary contract, the Rockets will retain their $5.34MM taxpayer mid-level exception. While there may not be many free agents left who are worth using that exception on this summer, it could come in handy during the season if there's a player Houston likes on the buyout market.
Although the Rockets aren't technically into luxury-tax territory yet, they're expected to blow past that threshold when they eventually re-sign restricted free agent Clint Capela. At that point, using their MLE or adding salary in other ways would become exponentially more expensive unless the Rockets can shed salary in another move.
Photo courtesy of USA Today Sports Images.