JULY 25: The three-team trade involving the Thunder, Hawks, and Sixers is now official, according to a series of press releases.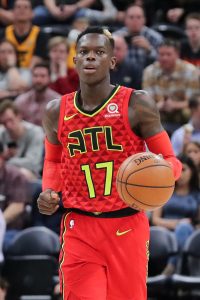 The deal took several days to finalize because the clubs had to complete a few other roster moves first, including Philadelphia signing Jonah Bolden earlier today.
Upon being released by the Hawks, Anthony intends to sign with the Rockets.
JULY 19: The Thunder and Hawks have agreed to a trade that will send Carmelo Anthony and a protected 2022 first-round pick to Atlanta, reports ESPN's Adrian Wojnarowski (via Twitter). According to Wojnarowski, Oklahoma City will receive Dennis Schroder in the deal. Royce Young of ESPN adds (via Twitter) that the 2022 first-rounder will have 1-14 protection, and will turn into two second-rounders if it doesn't convey in '22.
The Sixers will also be involved in the trade, according to Chris Vivlamore of The Atlanta Journal-Constitution, who tweets that Philadelphia will acquire Mike Muscala from Atlanta and will send Justin Anderson to the Hawks. The 76ers will also deal Timothe Luwawu-Cabarrot to Oklahoma City, Vivlamore adds (via Twitter).
Upon acquiring him, the Hawks will waive Anthony, Wojnarowski adds. That will free up the veteran forward to join whatever a new team when he clears waivers, and the Rockets remain the strong frontrunners to land him.
We heard rumblings earlier this week about discussions between the Hawks and Thunder involving Anthony, Schroder, and Muscala, so it seems those two teams were able to find common ground, with the Sixers entering the mix as well. Here's how the deal looks for each of the three teams involved:
Oklahoma City Thunder:
It has been nearly two weeks since word broke that the Thunder intended to part ways with Anthony, but the team resisted waiving him outright. Doing so would have reduced his $27.93MM cap charge to just $9.31MM, significantly reducing the club's luxury-tax bill for 2018/19, but it would have added dead-money cap hits worth $9.31MM for the next two years as well.
By trading Anthony and a future protected pick and taking back Schroder and Luwawu-Cabarrot, the Thunder will reduce their 2018/19 team salary and projected tax bill substantially while also adding a productive point guard in Schroder. The 24-year-old, who averaged 19.4 PPG and 6.2 APG last season, figures to assume a role similar to the one Reggie Jackson previously had in Oklahoma City.
According to Wojnarowski (via Twitter), Thunder GM Sam Presti and coach Billy Donovan were granted permission to speak to Schroder before the deal was agreed upon, and both Presti and Donovan are "enthusiastic" about the fit. Oklahoma City had been seeking more speed and another ball-handler, Woj notes.
Still, there's a reason Schroder was available. There are on-court questions about his shooting and defense, and off-court concerns about his character and his legal issues. Schroder was arrested on a misdemeanor battery charge last September, with Georgia officials recommending in March that he be prosecuted for felony aggravated battery. He'll face discipline from his team and/or the league when that case is resolved, but the Thunder appear to be banking him avoiding a more serious sentence.
As for the specific tax figures, by my count, the Thunder will now have a team salary of about $148.74MM with a projected tax bill just over $88.75MM. Prior to the deal, those numbers sat at about $160.97MM and $157.75MM, respectively. While Oklahoma City's tax outlook for 2018/19 has improved, the Thunder will have to be wary about increased penalties in future seasons after adding Schroder's $15.5MM annual salary through 2020/21. They'll likely deal with that when the time comes though.
It's worth noting that a lengthy suspension without pay for Schroder could further reduce the Thunder's team salary and tax hit in 2018/19. A suspension would also reduce the likelihood of the point guard earning the $2MM in unlikely incentives included in his contract, though not all of those bonuses are tied to individual performance, as ESPN's Bobby Marks notes.
Finally, the Thunder will create a traded player exception worth $10,883,189 in the deal. They'll have a year to use it.
Atlanta Hawks:
The Hawks had been determined to move Schroder for much of the offseason, and drafting Trae Young and acquiring Jeremy Lin made Atlanta's former starting point guard even more expendable. Despite his solid production, Schroder had a slew of on- and off-court question marks, as detailed above, and he was drafted and extended by Atlanta's previous front office — general manager Travis Schlenk never seemed particularly attached to him.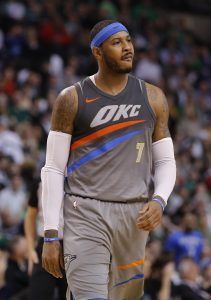 By moving Schroder ($15.5MM) and Muscala ($5MM) for Anthony ($27.93MM) and Anderson ($2.52MM), the Hawks take advantage of their remaining cap room — they're able to take back significantly more salary than they sent out as a result of that space.
Atlanta won't get any real immediate help out of the deal, but the club will create future cap flexibility by clearing Schroder's three remaining years from its books — both Anthony and Anderson are on expiring deals, and Carmelo will be waived shortly. According to Wojnarowski (via Twitter), he'll get his full $27.93MM salary from the Hawks. That was certainly agreed upon prior to the completion of the deal, since Anthony had a no-trade clause and could've vetoed the move if he thought Atlanta would ask him to give back money in a buyout.
The Hawks will also acquire a 2022 first-round pick, which they'll receive as long as Oklahoma City is a playoff team in '22 — otherwise, it will become two second-rounders. The Stepien rule, which prevents teams from trading consecutive future first-rounders, meant that the Thunder would have had a hard time dealing an earlier first-round pick, since they'd already sent their top-20 protected 2020 first-rounder to Orlando.
Philadelphia 76ers:
While the Sixers' involvement in this deal may seem extraneous, it's a nice bit of business for Philadelphia. In Muscala, the team will acquire a big man capable of knocking down outside shots — he's a career 37.8% three-point shooter and made a career-best 1.2 threes per game in 2017/18.
The Sixers thought they'd acquired a player who fit that role earlier in the offseason when they reached an agreement to sign Nemanja Bjelica, but Bjelica backed out of his deal with the team, leaving Philadelphia seeking a replacement. Muscala is a solid fallback plan, and is on an expiring contract, meaning he won't compromise the team's future cap flexibility.
In order to acquire Muscala, the Sixers only had to surrender Anderson and Luwawu-Cabarrot, a pair of players who seemed unlikely to have regular rotation roles for the team in 2018/19. The move will also help the 76ers clear out a roster logjam, as the team had 16 players under contract and was still believed to be considering bringing over draft-and-stash prospect Jonah Bolden. Following the deal, the Sixers are back down to 15 players on NBA contracts, not including Bolden or 2018 second-rounder Shake Milton.
Photos courtesy of USA Today Sports Images.