JULY 10: The Lakers have officially signed Stephenson, according to a press release from the team.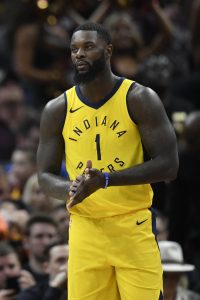 "It's incredibly exciting to have Lance join our team," GM Rob Pelinka said in a statement. "Lance is playoff-tested and will bring a certain edge, confidence and toughness to our roster. His multi-positional versatility and open-court playmaking abilities are key ingredients for the basketball style we designed for next season."
By signing Stephenson now, the Lakers have elected to use most or all of their remaining cap room to complete his deal, leaving the $4.449MM room exception available for another move.
JULY 1: The Lakers have agreed to a deal with Lance Stephenson, Shams Charania of Yahoo Sports tweets. The 27-year-old swingman and notorious rival of LeBron James will head to Los Angeles after a career-reviving 14-month stint with the Pacers.
The pact, which ESPN's Chris Haynes reports is worth $4.5MM over one season, will give the Lakers an additional veteran as they gear up to transition from a rebuilding young squad to a genuine Western Conference contender.
[RELATED: LeBron James to sign four-year deal with Lakers]
Stephenson, 27, had his 2018/19 team option turned down by the Pacers after he averaged 9.2 PPG, 5.2 RPG, and 2.9 APG last season, appearing in all 82 games. While his shooting numbers (.427/.289/.661) were all below his career marks, it was still somewhat surprising to see the Pacers let Stephenson go. His option salary would have been $4.36MM, so he'll get a slight raise on his new deal.
Based on the terms reported by Haynes, it appears the Lakers will use their room exception to sign Stephenson once they've used up all their cap room. The room exception is worth $4.449MM for 2018/19.
Photo courtesy of USA Today Sports Images.