JULY 9, 7:23pm: James has officially signed the contract, Adrian Wojnarowski of ESPN tweets.
JULY 1, 7:11pm: LeBron James is headed to Los Angeles, with his agency Klutch Sports Group issuing a press release to confirm that James will sign a four-year contract with the Lakers (hat tip to Jeff Zillgitt of USA Today). The plan all along, Zillgitt tweets, was to keep the announcement as low-key as possible.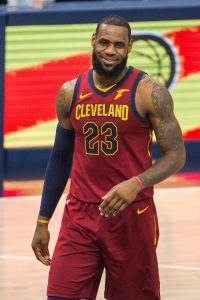 According to Klutch Sports, James' new deal will be worth $154MM, though the maximum four-year salary for a player with 10+ years of NBA experience who changes teams as a free agent is technically $153,312,846.
James' new contract with the Lakers will start at $35.65MM, with subsequent salaries of $37.44MM, $39.22MM, and $41MM. That final year will be a player option, according to Shams Charania of Yahoo Sports, who tweets that LeBron will have the opportunity to opt out in 2021.
The four-year contract represents a departure from James' last few seasons in Cleveland, when he signed shorter-term deals to maximize his earnings and his flexibility. He'll be at least a Laker for the next three seasons, creating some stability for his family in Los Angeles and giving the Lakers time to build a championship-worthy roster around him.
The decision represents the culmination of a year-long saga. The Lakers, who had more cap space than any other NBA team heading into the 2018 offseason, were long rumored to be a potential landing spot for James, though several other teams – including the Cavaliers, Sixers, Rockets, Clippers, Heat, Celtics, Nuggets, and even the Warriors – were cited as possible suitors along the way.
[RELATED: More On LeBron's Decision]
The Lakers were unable to secure a commitment today from Paul George, who will be headed back to Oklahoma City on a four-year deal of his own, but the team lands free agency's big prize in James, who will join a roster featuring several up-and-coming prospects, including Lonzo Ball, Brandon Ingram, Kyle Kuzma, and Josh Hart.
With LeBron in the mix, it's not clear if all those youngsters remain a part of the Lakers' long-term plans. According to ESPN's Adrian Wojnarowski (via Twitter), Kawhi Leonard remains highly motivated to become a Laker, and the Lakers may be motivated in turn to increase their efforts to acquire him in a trade with the Spurs. That would mean breaking up the Lakers' young core.
While the Lakers' odds of landing another top free agent like DeMarcus Cousins or Clint Capela aren't as high now that they've committed $35MM+ to James and are reportedly re-signing Kentavious Caldwell-Pope to a $12MM deal, the team still has cap flexibility.
Accommodating James' new max deal would reduce L.A.'s cap space to about $13.4MM, as cap experts Albert Nahmad and Bobby Marks detail, and adding KCP's new $12MM salary would further eat into that room. However, the team could re-open substantial space by trading or stretching Luol Deng, or by renouncing Julius Randle. Deng has an $18MM salary for 2018/19, while Randle's cap hold is $12,447,727. The Lakers will also have the $4.4MM room exception available once they use up all their cap space, which is expected to be used to sign Lance Stephenson.
[RELATED: DeMarcus Cousins expected to meet with Pelicans, Lakers]
[RELATED: Lakers to meet with Clint Capela]
As the Lakers complete their first steps toward a potential super-team, the Cavaliers will have to regroup now that James is leaving Cleveland for the second time in eight years. While the franchise was blindsided in 2010 when LeBron took his talents to South Beach, general manager Koby Altman and the Cavs' front office had prepared for this eventuality by adding young, controllable players like Larry Nance, Rodney Hood, Jordan Clarkson, and Collin Sexton within the last year.
Even without a max salary for James to consider, the Cavs already have $102MM+ in guaranteed money on their books for 2018/19, a figure that doesn't account for a new deal for Hood. Recent reports indicated that the club didn't plan on trading Kevin Love or blowing up its roster if LeBron left, so we can assume for now that the Cavs will still aim to compete for the playoffs in '18/19.
Although Cleveland will obviously take a significant step backward without its four-time MVP, the path to the postseason should be easier in the Eastern Conference than in the hyper-competitive West, which will welcome another All-NBA player as a result of James' decision. Eastern contenders like the Celtics, Raptors, and Pacers will likely be thrilled to see LeBron head west.
Meanwhile, the Sixers – who met with James' representatives earlier today – will be another team to watch in the wake of LeBron's agreement with the Lakers. Philadelphia was the only other suitor with a significant chunk of cap room available, so the team will have to turn its attention elsewhere as it debates how to use that space.
Currently, the 76ers have nearly $27MM in space, and the team could increase that number if it waives or buys out Jerryd Bayless, who is on an $8.5MM+ expiring contract. That gives the Sixers plenty of flexibility to pursue a top free agent or to focus on re-signing J.J. Redick and adding one or two more rotation pieces.
James' decision caps an extremely eventful first day of the 2018 NBA free agent period. Each of the top five players on our list of 2018's best 50 free agents have now agreed to deals, though many notable names in the top 15 remain available. That list includes Capela, Cousins, Randle, Aaron Gordon, Jabari Parker, Zach LaVine, and Tyreke Evans.
Austin Kent contributed to this post. Photo courtesy of USA Today Sports Images.