NBA teams have now completed the brunt of their offseason work, with the draft and free agency practically distant memories. Still, with training camps more than a month away, most clubs around the league have at least one or two outstanding issues they've yet to address.
We're in the midst of looking at all 30 NBA teams, separating them by division and checking in on the key outstanding question that each club still needs to answer before the 2018/19 regular season begins.
After focusing on the Atlantic, Central, and Southeast last week, we've moved to the Western Conference this week, starting with the Southwest. Today, we're focusing on the Pacific…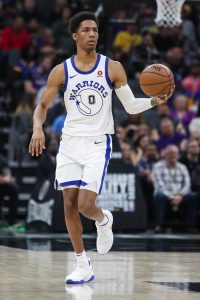 Golden State Warriors
When – and how – will Patrick McCaw's contract situation be resolved?

One of two restricted free agents on the market, McCaw doesn't appear to have drawn a whole lot of outside interest this offseason. The Warriors kept his qualifying offer on the table through July's withdrawal deadline and seem prepared for the possibility of McCaw accepting that offer, which is worth a modest $1.71MM.
If McCaw signs his one-year qualifying offer, he'd fill the 14th spot on Golden State's roster and would likely get another chance to prove his worth before returning to the free agent market in 2019.
The Warriors entered the offseason focused on adding wings, but DeMarcus Cousins' unexpected availability changed the team's plans, resulting in first-rounder Jacob Evans being the only true swingman added to the roster. As such, there should be a spot for McCaw in the rotation if he returns and is healthy to start the season.
Los Angeles Clippers
Who will be traded or released in order to finalize the 15-man roster?

The Clippers sent Sam Dekker to the Cavaliers in an early-August trade that saved the team a little money and began the process of cutting down the roster to 15 players for the regular season. Still, even with Dekker gone, the Clips have 15 players on guaranteed salaries, with Patrick Beverley and his non-guaranteed salary still very much in the mix as well.
Beverley is unlikely to be cut, so unless the Clippers can reduce their roster count via another trade, someone on a guaranteed deal figures to be waived. While Jawun Evans and Sindarius Thornwell have the smallest salaries on the team's books, both players – particularly Thornwell – showed some promise in their rookie years.
Veteran wing Wesley Johnson, who is entering a contract year, could also be a release candidate, though he's a Doc Rivers favorite. For now, Evans looks like the odd man out in Los Angeles, but the club has a number of paths to choose from as it sets its roster for opening night.
Los Angeles Lakers
How will the new-look Lakers mesh?

The Lakers' roster doesn't seem likely to undergo any real changes before the regular season starts. The team has 15 players on guaranteed contracts and two on two-way deals, plus three camp invitees who appear to be eventually ticketed for the South Bay Lakers. It's not entirely impossible that we get a surprise cut or a Luol Deng trade in the next couple months, but that looks like a long shot.
So for the Lakers, the most pressing question is simply this: How will the new-look roster mesh during training camp and the preseason? LeBron James is the NBA's best player, but it can be a challenge to play alongside him. And many of the Lakers' other newly-acquired players – including Rajon Rondo, Lance Stephenson, and Michael Beasley – have had some bumpy periods during their respective NBA careers.
Throw in a young core led by Brandon Ingram, Lonzo Ball, and Kyle Kuzma, and the Lakers will be one of the NBA's most fascinating clubs to watch this fall, even with no further tweaks to the roster.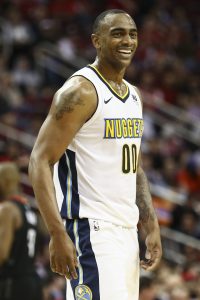 Phoenix Suns
Are any buyouts coming before the season begins?

It has been a fairly quiet offseason for the Suns since July 1, when they struck a deal with Trevor Ariza. However, the team made one notable trade since then, sending Jared Dudley to Brooklyn in exchange for Darrell Arthur, who is on an expiring contract.
At the time, reports suggested that Arthur would likely be bought out by Phoenix, but that hasn't happened yet. For now, he's one of 14 players on the Suns' roster with a guaranteed contract. Tyson Chandler – also entering a contract year – is another one of those 14 players, and a few buyout rumors have swirled around him too.
Of the two veteran big men, Arthur is the more likely buyout candidate, but it's not a lock that either player will start the season with Phoenix. With Deandre Ayton, Richaun Holmes, Marquese Chriss, Dragan Bender, Ariza, and Josh Jackson all potentially vying for minutes at the four or five, Arthur and Chandler could be expendable.
Ultimately, I expect the Suns to waive Arthur and retain Chandler for now, perhaps dangling the veteran center as a trade chip during the season.
Sacramento Kings
Who will be traded or released in order to finalize the 15-man roster?

Like the Clippers, the Kings have more than 15 candidates to make their regular season roster, and will have to trade or release a player with a guaranteed contract by mid-October.
It will be interesting to see which direction the Kings go here. The team has several veterans on expiring contracts who probably don't have long-term futures in Sacramento, including Zach Randolph, Kosta Koufos, Iman Shumpert, and Ben McLemore. There may not be much trade interest for those players though, and it's not clear if the Kings are willing to waive any of them and eat their remaining salaries, which range from $5.46MM (McLemore) to $11.69MM (Randolph).
Players like Skal Labissiere, Deyonta Davis, Frank Mason, and Justin Jackson are on cheaper salaries and have no guarantees beyond this season, but the Kings will be wary of giving up too early on any of their young prospects.
With upwards of $11MM in cap room still available, the Kings aren't exactly strapped for cash, so I think one of their veterans will be the odd man out, though I don't yet have a feel for which one it might be.
Photos courtesy of USA Today Sports Images.