NBA teams have now completed the brunt of their offseason work, with the draft and free agency practically distant memories. Still, with training camps more than a month away, most clubs around the league have at least one or two outstanding issues they've yet to address.
We're in the midst of looking at all 30 NBA teams, separating them by division and checking in on the key outstanding question that each club still needs to answer before the 2018/19 regular season begins.
After focusing on the Atlantic on Monday and the Central on Tuesday, we're moving on to the Southeast today…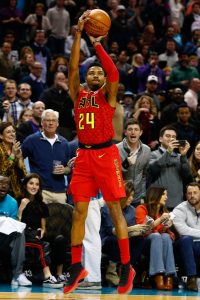 Atlanta Hawks
Will Kent Bazemore still be a Hawk when the 2018/19 season begins?

As we noted this morning, Bazemore is the longest-tenured Hawks player now that Dennis Schroder and Mike Muscala are on new teams. But after trading Schroder and Muscala last month, Atlanta may ultimately deal Bazemore too.
Trade rumors continue to swirl around Bazemore, with the Rockets, Bucks, and Pelicans among the teams linked to the veteran swingman. In a hypothetical trade with each of those teams, the Hawks would have to take on an unwanted contract, which would mean acquiring Ryan Anderson, John Henson, or Solomon Hill. So it will come down to what sort of additional assets those clubs are willing to attach to their bad contracts to sweeten the pot for Atlanta.
If the Hawks don't feel like any offers for Bazemore are worth pulling the trigger on at this point, there's no rush to make a deal — he'll still have value at the trade deadline, especially if he has a strong first half.
Charlotte Hornets
Will the Hornets make a trade involving a wing before the season begins?

Many of those same teams with reported interest in Bazemore have likely checked in with the Hornets as well. In Nicolas Batum, Marvin Williams, Michael Kidd-Gilchrist, and Jeremy Lamb, Charlotte has several wings who could be trade candidates.
While all of those players are solid – but unspectacular – on the court, there's a significant range in their trade value due to their respective contracts. Lamb's $7.5MM expiring deal, for instance, would be much more palatable for potential trade partners than Batum's contract, which still has three years and $76.7MM left on it. Williams and Kidd-Gilchrist fall somewhere in the middle — they each have two years left on their deals and are earning between $13-15MM annually.
The Hornets likely won't push to make a trade before the season starts, and if they do make a move, they'll have to be wary of their luxury tax situation, as they only sit about $3.5MM below the tax threshold. Still they've shown a willingness to deal since Mitch Kupchak took over as head of basketball operations in the spring. Charlotte has made five trades since the 2017/18 season ended.
Miami Heat
Will Dwyane Wade and Udonis Haslem return for another season?

Despite rumors that Wade is set to return for another year, nothing has been confirmed yet. In fact, Alex Kennedy of HoopsHype reported this week (via Twitter) that retirement remains a "serious consideration" for the future Hall-of-Famer.
Still, if Wade does continue his playing career, it'll be with the Heat, and rumblings that Haslem is leaning toward another year in South Beach may bode well for the possibility of Wade's return. While the two veterans aren't necessarily making their decisions together, there was a sense that if one of them retired, the other would be more likely to follow suit.
The Heat continue to hold roster spots for both players, and Pat Riley suggested last month that he expected clarity around mid-August. If the duo decides to keep playing, Haslem will almost certainly receive a minimum contract. Wade's situation is a little more complicated, as he may seek some or all of Miami's taxpayer mid-level exception, which could pay him up to $5.3MM instead of just $2.4MM.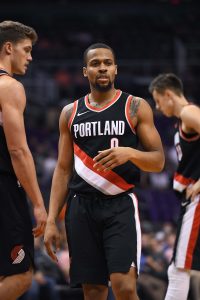 Orlando Magic
Is Isaiah Briscoe penciled in as the Magic's 15th man?

The Magic have 14 players on fully guaranteed contracts at the moment, and none of them seem likely to be waived before opening night. That leaves one spot open on the regular season roster, and Briscoe looks like the current frontrunner.
Briscoe, who played well overseas last season after going undrafted out of Kentucky in 2017, didn't get a full guarantee from the Magic, but he did get a generous $500K partial guarantee on his first-year salary. His three-year contract is also structured as if Orlando hopes to keep him around for the next few seasons. Throw in the fact that D.J. Augustin and Jerian Grant are the only other point guards on the NBA roster and Briscoe looks like a safe bet to break camp with the team.
Still, without that full guarantee, Briscoe isn't a lock for the 15-man squad quite yet. A poor preseason could put his roster spot in jeopardy, particularly with Troy Caupain in the mix on a two-way contract as an insurance policy at the point guard spot. The Magic still have a couple openings on their 20-man offseason roster, so it will be interesting to see if they use either of those slots on a player that could push Briscoe for a place on the regular season roster.
Washington Wizards
Will the Wizards sign Kelly Oubre Jr. to a rookie scale extension?

Oubre enjoyed his best NBA season in 2017/18, establishing new career highs in PPG (11.8), RPG (4.5), 3PT% (.341), and many other categories. However, his production was somewhat up and down, and he struggled to make an impact in the postseason, when he shot just .375/.211/.889.
Entering his fourth year, Oubre is now eligible for a rookie scale extension, and he and the Wizards will have until October 15 to work out a new deal that would go into effect in 2019/20. If the two sides don't reach an agreement, the 22-year-old would be eligible for restricted free agency next summer.
If they expect Oubre to take another big step forward this season, the Wizards would be wise to see if they can lock him up now at a team-friendly rate. However, with big-money multiyear contracts for John Wall, Bradley Beal, and Otto Porter already on the books, the club may be reluctant to invest heavily in another contributor whose skill set overlaps with that of its highest-paid players.
Photos courtesy of USA Today Sports Images.