The Designated Veteran Extension, as we explain our glossary entry on the subject, is a relatively new addition to the NBA's Collective Bargaining Agreement. It allows players with 7-9 years of experience, who would normally qualify for a maximum starting salary of 30% of the cap, to qualify for a "super-max" contract that starts at 35% of the cap, a level normally reserved players with 10+ years of experience.
A player who has seven or eight years of NBA service with one or two years left on his contract becomes eligible for a Designated Veteran Extension if he meets the required performance criteria and hasn't been traded since his first four years in the league. A Designated Veteran contract can also be signed by a player who is technically a free agent if he has eight or nine years of service and meets the required criteria.
The performance criteria is as follows (only one of the following must be true):
With those criteria in mind, it's worth keeping an eye on several players who could qualify for a super-max veteran contract with their play this season. Let's dive in and examine a few of those guys…
Players who already qualify for a super-max contract: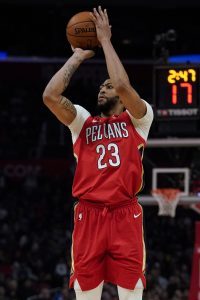 Davis can't yet sign a Designated Veteran Extension, but his All-NBA appearances over the last two seasons have ensured that he'll qualify, even if he somehow doesn't earn another All-NBA nod in 2018/19.
As of next July, the Pelicans will be able to offer Davis a contract extension that tacks an additional five years onto his $27.09MM salary for 2019/20. Based on the NBA's latest cap projection for 2020/21 ($118MM), that five-year extension would be worth a staggering $239.54MM.
Players who could qualify for a super-max contract by meeting the criteria in 2018/19:
Technically, any player who earns an All-NBA spot in 2018/19 and meets the contract criteria can qualify for a super-max, but the players listed above are probably the only legitimately viable candidates. And even in this group, guys like Beal and Drummond are a real stretch — if they were to improbably make an All-NBA team, their clubs still probably wouldn't put Designated Veteran Extension offers on the table, since they're not bona fide superstars.
Thompson and Walker will both be unrestricted free agents in 2019, so if they meet the DVE criteria, they'd be eligible for five-year contracts with their respective teams worth up to a projected $221.27MM. Lillard and Green are still under contract for at least one more year beyond this season, but they'd qualify for super-max extensions if they meet the criteria — Lillard could get an extra four years, while Green could get five.
A team can only give Designated Veteran Extensions to two players, so the Warriors wouldn't be able to offer both Thompson and Green super-max contracts, since Stephen Curry already has one. On the plus side, Kevin Durant won't figure into this equation for Golden State, since he has 10+ years of experience. A deal starting at 35% of the cap for Durant wouldn't count toward the Dubs' super-max limit.
Finally, while Antetokounmpo can qualify for a super-max by earning All-NBA honors this season, he wouldn't actually be able to sign such a deal until 2020, since he'll only have six years of experience at the end of the 2018/19 campaign. Essentially, he'd be in the same spot that Anthony Davis is in now.
Players who can no longer qualify for a super-max contract because they were traded:
Butler, Irving, and Leonard are probably more worthy of a super-max investment than most of the players in the above group, but they no longer qualify because they were traded while on their second contracts — Butler from the Bulls, Irving from the Cavaliers, and Leonard from the Spurs. They'll need to reach 10 years of NBA experience before qualifying for a starting salary worth up to 35% of the cap.
Photo courtesy of USA Today Sports Images.