If you missed any of this past week's biggest headlines from around the NBA, we've got you covered with our Week in Review. Below are some of the most noteworthy stories from the last seven days:
The Timberwolves fired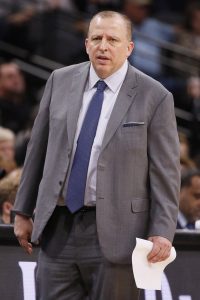 Tom Thibodeau as head coach and president of basketball operations, naming Ryan Saunders and Scott Layden as the team's interim head coach and head of basketball operations, respectively. In two and a half seasons with the Wolves, Thibodeau had a 96-107 regular season record, leading the club to the playoffs for the first time in 14 seasons last year. Ultimately, however, his decision to acquire Jimmy Butler and Butler's eventual departure to Philadelphia after Thibodeau's reluctance to trade him and standoff with ownership led to his ouster. His firing continues a trend of team's moving away from having the same individual serve as head coach and president of basketball operations.
The Rockets traded guard Michael Carter-Williams and cash to the Bulls for a heavily protected second-round pick that is unlikely to ever convey. Carter-Williams, whose contract was not fully guaranteed, was waived by the Bulls before the January 7 deadline. The Bulls also waived MarShon Brooks before the deal was completed, as Chicago had a full 15-man roster. With both Brooks and Carter-Williams now out of the picture, the Bulls have an open roster spot. With the trade, the Rockets cut their luxury tax bill by over $2.5MM, while the Bulls obtained enough cash to cover the salaries payable to both Carter-Williams and Brooks.
The Cavaliers waived swingman Patrick McCaw less than a week after officially signing him to a two-year, $6MM contract. The contract was fully non-guaranteed, meaning the team had to part ways with the 25-year-old by January 7 in order to keep his entire $3MM salary off the books for the 2018/19 season. The move now allows McCaw to enter unrestricted free agency, but because of the roundabout way in which this happened, there is now speculation that the Cavs' maneuver to get McCaw out of the Warriors' control may have usurped the CBA. Accordingly, the NBA has launched a review and will speak with McCaw's representatives.
The Grizzlies and Chandler Parsons have agreed for the veteran forward to leave the team indefinitely as the two sides work to structure a resolution on his future. Parsons has been frustrated with being a healthy scratch since returning from injury, and the Grizzlies apparently don't see him being a part of the team's future. Parsons was also upset about a potential G League assignment with no promise of a return to the active NBA roster. The two sides are working on finding a trade partner, but the Grizzlies, who are willing to take on a longer contract in return for Parsons, have not been willing to include a first-round draft pick in a trade.
Here are 11 more notable NBA headlines from the last week: