After making the Eastern Conference Finals in 2018 without Kyrie Irving and Gordon Hayward in their lineup, the Celtics were widely viewed as the favorites to come out of the East in 2019. Instead, Boston struggled all season to live up to those preseason expectations, with fit and role concerns plaguing the team's veterans and young players alike. Bringing back the same group seems unpalatable, so it could be a summer of change in New England.
Here's where things currently stand for the Celtics financially, as we continue our Offseason Salary Cap Digest series for 2019:
Guaranteed Salary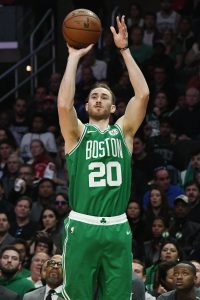 Gordon Hayward ($32,700,690)
Marcus Smart ($12,553,571)
Jayson Tatum ($7,830,000)
Jaylen Brown ($6,534,829)
Guerschon Yabusele ($3,117,240)
Robert Williams ($1,937,520)
Demetrius Jackson ($92,857) — Waived via stretch provision
Total: $64,766,707

Player Options
Team Options
Non-Guaranteed Salary
Restricted Free Agents
Terry Rozier ($4,285,798 qualifying offer / $9,151,170 cap hold): Bird rights
Jonathan Gibson ($1,876,700 qualifying offer / $1,876,700 cap hold): Early Bird rights
Daniel Theis ($1,818,486 qualifying offer / $1,818,486 cap hold): Early Bird rights
Brad Wanamaker ($1,643,842 qualifying offer / $1,643,842 cap hold): Non-Bird rights
Total: $14,490,198
Unrestricted Free Agents / Other Cap Holds
Marcus Morris ($10,212,500): Bird rights
No. 14 overall pick ($3,454,080)
No. 20 overall pick ($2,578,800)
No. 22 overall pick ($2,376,840)
Shane Larkin ($1,618,486): Non-Bird rights 2
P.J. Dozier ($1,443,842): Non-Bird rights
R.J. Hunter ($1,443,842): Non-Bird rights
Total: $23,128,390
Projected Salary Cap: $109,000,000
Projected Tax Line: $132,000,000
Offseason Cap Outlook

Realistic cap room projection: $0

With less than $65MM in guaranteed money on their books, the Celtics have a path to cap room, but unless they clean house, it's hard to imagine them getting there. If Horford exercises his player option, that would make Boston an over-the-cap team. The team also must consider Baynes' player option, Rozier's cap hold, cap holds for three draft picks, and a new salary for Irving. Perhaps Rozier and/or Irving depart, but it seems likely that at least one of them is retained.
If we account for the Celtics' six players on guaranteed contracts and their three first-round picks, the team could create up to $33.1MM in cap room. But that figure wouldn't include any of Horford, Irving, Baynes, Rozier, Morris, or Ojeleye, making it a real long shot.
Cap Exceptions Available
Trade exception: $450,000 (expires 7/23/19) 3
Trade exception: $1,349,383 (expires 2/7/20) 3
Mid-level exception: $9,246,000 4
Bi-annual exception: $3,619,000 4
Footnotes
Ojeleye's salary becomes fully guaranteed after July 1.
Larkin's cap hold remains on the Celtics' books because he hasn't been renounced after going unsigned in 2018/19. He can't be used in a sign-and-trade deal.
The Celtics will lose these exceptions if they go under the cap to use room.
These are projected values. If the Celtics are at risk of going into tax territory, they may forfeit the bi-annual exception and have to use the taxpayer mid-level exception ($5,711,000) rather than the full mid-level exception. In the event they use cap room, they'd lose these exceptions and would instead would gain access to the $4,760,000 room exception.
Note: Minimum-salary and rookie-scale cap holds are estimates based on salary cap projections and could increase or decrease depending on where the cap lands.
Salary information from Basketball Insiders and RealGM was used in the creation of this post. Photo courtesy of USA Today Sports Images.