After trading away Chris Paul in the summer of 2017 and Blake Griffin at the 2018 trade deadline, the Clippers moved leading scorer Tobias Harris at 2019's deadline. Somehow, the club looked better than ever after the exodus of its stars, posting a 18-8 record down the stretch and securing a playoff spot. While Los Angeles' playoff run was brief, the team notched a pair of impressive victories over the Warriors before being eliminated, and now heads into the offseason well positioned to land a star.
Here's where things currently stand for the Clippers financially, as we continue our Offseason Salary Cap Digest series for 2019: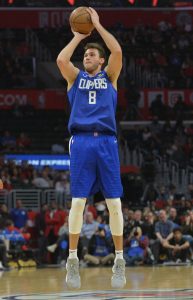 Guaranteed Salary
Danilo Gallinari ($22,615,559)
Lou Williams ($8,000,000)
Montrezl Harrell ($6,000,000)
Shai Gilgeous-Alexander ($3,952,920)
Jerome Robinson ($3,567,720)
Landry Shamet ($1,995,120)
Total: $46,131,319

Player Options
Team Options
Non-Guaranteed Salary
Restricted Free Agents
Rodney McGruder ($3,021,354 qualifying offer / $3,021,354 cap hold): Bird rights
Ivica Zubac ($1,931,189 qualifying offer / $1,931,189 cap hold): Bird rights
Johnathan Motley (two-way qualifying offer / $1,443,842 cap hold): Early Bird rights 3
Total: $6,396,385

Unrestricted Free Agents / Other Cap Holds
Wilson Chandler ($19,200,843): Bird rights
Garrett Temple ($15,200,000): Bird rights
JaMychal Green ($14,566,667): Bird rights
Patrick Beverley ($9,551,353): Bird rights
Angel Delgado ($1,443,842): Non-Bird rights
Total: $59,962,705
Projected Salary Cap: $109,000,000
Projected Tax Line: $132,000,000
Offseason Cap Outlook

Realistic cap room projection: $56.5MM
This projection assumes that the Clippers retain their six players on guaranteed contracts and keep Zubac's cap hold on their books. Hanging onto any other players would reduce this figure.
On the other hand, if the Clips were able to trade Gallinari without taking back any salary, they could keep Zubac and their other five guaranteed contracts and increase their cap projection to $78.2MM. That would be more than enough space for two maximum salary free agents.
Cap Exceptions Available
Room exception: $4,760,000 4
Footnotes
Thornwell's salary becomes fully guaranteed after June 20.
Wallace's salary becomes partially guaranteed ($300K) after September 12.
The salaries for two-way players don't count against a team's cap, but their cap holds do during the offseason.
This is a projected value. In the unlikely event the Clippers remain over the cap, they'd instead have access to the full mid-level exception ($9,246,000), the bi-annual exception ($3,619,000), and three trade exceptions (their most valuable TPE is worth $9,800,000 and expires on 2/6/20).
Note: Minimum-salary and rookie-scale cap holds are estimates based on salary cap projections and could increase or decrease depending on where the cap lands.
Salary information from Basketball Insiders and RealGM was used in the creation of this post. Photo courtesy of USA Today Sports Images.