After years of building through the draft and steadily improving their record, adding LeBron James to the mix was supposed to be the move that pushed the Lakers back into the playoffs. Early returns were positive, as the team held a top-four seed in the West through Christmas, but things took a sharp downturn from there. LeBron's groin injury, a series of leaked Anthony Davis trade offers, and Magic Johnson's abrupt resignation from his president of basketball operations role has left the franchise in a state of a flux entering a crucial summer.
Here's where things currently stand for the Lakers financially, as we continue our Offseason Salary Cap Digest series for 2019: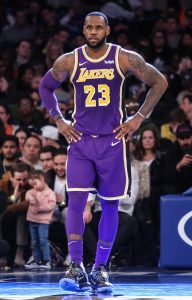 Guaranteed Salary
LeBron James ($37,436,858)
Lonzo Ball ($8,719,320)
Brandon Ingram ($7,265,485)
Luol Deng ($5,000,000) — Waived via stretch provision
Moritz Wagner ($2,063,520)
Kyle Kuzma ($1,974,600)
Josh Hart ($1,934,160)
Isaac Bonga ($1,416,852)
Total: $65,810,795

Player Options
Team Options
Non-Guaranteed Salary
Restricted Free Agents
Unrestricted Free Agents / Other Cap Holds
Kentavious Caldwell-Pope ($15,600,000): Early Bird rights
Rajon Rondo ($10,800,000): Non-Bird rights
Mike Muscala ($9,500,000): Bird rights
No. 4 overall pick ($7,059,360)
Lance Stephenson ($5,338,800): Non-Bird rights
Reggie Bullock ($4,750,000): Bird rights
Tyson Chandler ($1,618,486): Non-Bird rights
JaVale McGee ($1,618,486): Non-Bird rights
Total: $53,254,172
Projected Salary Cap: $109,000,000
Projected Tax Line: $132,000,000
Offseason Cap Outlook

Realistic cap room projection: $32.5MM
There aren't many complicating factors we have to consider when projecting the Lakers' cap room, since none of their pending free agents are players who absolutely must be retained. If we account for their seven players on guaranteed contracts and the cap hold for their first-round pick, that leaves about $32.5MM in cap room, assuming they renounce all their FAs-to-be and waive Jones. That wouldn't be quite enough space for a maximum salary free agent, so the Lakers would have to make an additional move to shed salary.
Cap Exceptions Available
Room exception: $4,760,000 2
Footnotes
The salaries for two-way players don't count against a team's cap, but their cap holds do during the offseason.
This is a projected value. If the Lakers remain over the cap, they'd instead have access to the full mid-level exception ($9,246,000), the bi-annual exception ($3,619,000), and their lone remaining trade exception ($1,544,951; expires 2/7/20).
Note: Minimum-salary and rookie-scale cap holds are estimates based on salary cap projections and could increase or decrease depending on where the cap lands.
Salary information from Basketball Insiders and RealGM was used in the creation of this post. Photo courtesy of USA Today Sports Images.