The 2018/19 season was widely expected to be a rebuilding season for the Magic, and the team even made the ultimate rebuilding at the move at the trade deadline, acquiring injured prospect Markelle Fultz. However, an All-Star performance from Nikola Vucevic and the eighth-best defense in the NBA helped buoy Orlando to a playoff spot.
Now, the team will have to decide whether to try to build on that success by re-signing key contributors like Vucevic and Terrence Ross, or whether to pivot to a full-fledged youth movement.
Here's where things currently stand for the Magic financially, as we continue our Offseason Salary Cap Digest series for 2019: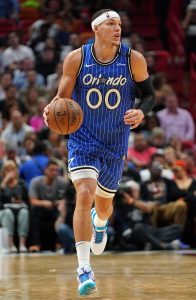 Guaranteed Salary
Aaron Gordon ($19,863,636)
Evan Fournier ($17,000,000)
Timofey Mozgov ($16,720,000)
Markelle Fultz ($9,745,200)
D.J. Augustin ($7,250,000)
Jonathan Isaac ($5,806,440)
Mohamed Bamba ($5,697,600)
Melvin Frazier ($1,416,852)
C.J. Watson ($333,333) — Waived via stretch provision
Total: $83,833,061

Player Options
Team Options
Non-Guaranteed Salary
Restricted Free Agents
Jerian Grant ($3,763,662 qualifying offer / $7,917,942 cap hold): Bird rights
Jarell Martin ($3,549,430 qualifying offer / $7,248,666 cap hold): Bird rights
Khem Birch ($1,818,486 qualifying offer / $1,818,486 cap hold): Early Bird rights
Amile Jefferson (two-way qualifying offer / $1,443,842 cap hold): Non-Bird rights 1
Total: $18,428,936
Unrestricted Free Agents / Other Cap Holds
Nikola Vucevic ($19,125,000): Bird rights
Terrence Ross ($15,750,000): Bird rights
Fran Vazquez ($4,028,400) 2
No. 16 overall pick ($3,117,000)
Arron Afflalo ($1,618,486): Non-Bird rights 3
Michael Carter-Williams ($1,618,486): Non-Bird rights
Marreese Speights ($1,618,486): Non-Bird rights 3
Troy Caupain ($1,443,842): Non-Bird rights
Total: $48,319,700
Projected Salary Cap: $109,000,000
Projected Tax Line: $132,000,000
Offseason Cap Outlook

Realistic cap room projection: $0

This projection assumes that the Magic keep either Vucevic's or Ross' cap hold on their books in an attempt to re-sign them. Retaining even one of those holds would make Orlando an over-the-cap team.
If the Magic let both of their top free agents walk, there's a path to possible cap room. Waiving all their non-guaranteed contracts and renouncing their free agents could create as much as about $19.4MM in space. I'm not sure that's a likely scenario though. I expect the Magic to try to re-sign at least one of Vucevic or Ross, and even if they don't, bringing back less expensive players like Iwundu and Birch would also cut into that projected room.
Cap Exceptions Available
Mid-level exception: $9,246,000 4
Bi-annual exception: $3,619,000 4
Footnotes
The salaries for two-way players don't count against a team's cap, but their cap holds do during the offseason.
Vazquez was the 11th overall pick in the 2005 draft. His cap hold (the equivalent to the 11th overall pick in the 2019 draft) will remain on the Magic's books unless the team receives permission to remove it, ensuring Vazquez won't be signed in 2019/20.
Afflalo's and Speights' cap holds remain on the Magic's books because they haven't been renounced after going unsigned in 2018/19. They can't be used in a sign-and-trade deal.
These are projected values. In the event the Magic use cap room, they'd lose these exceptions and would instead would gain access to the $4,760,000 room exception.
Note: Minimum-salary and rookie-scale cap holds are estimates based on salary cap projections and could increase or decrease depending on where the cap lands.
Salary information from Basketball Insiders and RealGM was used in the creation of this post. Photo courtesy of USA Today Sports Images.