With a pair of homegrown franchise players in place for the 2018/19 season, new Sixers general manager Elton Brand decided the time was right to push his chips into the middle of the table. The team went out and acquired Jimmy Butler and Tobias Harris to team up with Joel Embiid and Ben Simmons, creating perhaps the most dominant starting lineup in the NBA. After a second-round exit, the club will now need to decide how aggressive it will be in trying to keep that group together to give it more time to jell.
Here's where things currently stand for the Sixers financially, as we continue our Offseason Salary Cap Digest series for 2019:
Guaranteed Salary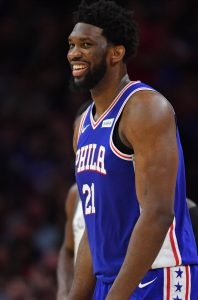 Joel Embiid ($27,504,630)
Ben Simmons ($8,113,930)
Zhaire Smith ($3,058,800)
Jonah Bolden ($1,698,450)
Jonathon Simmons ($1,000,000) — Partial guarantee. Non-guaranteed portion noted below. 1
Shake Milton (two-way)
Haywood Highsmith (two-way)
Total: $41,375,810

Player Options
Team Options
Non-Guaranteed Salary
Jonathon Simmons ($4,700,000) 1
Total: $4,700,000

Restricted Free Agents
Unrestricted Free Agents / Other Cap Holds
Tobias Harris ($22,200,000): Bird rights
J.J. Redick ($15,925,000): Early Bird rights
Boban Marjanovic ($13,300,000): Bird rights
Mike Scott ($5,184,600): Non-Bird rights
No. 24 overall pick ($2,190,720)
Anzejs Pasecniks ($2,103,000) 2
Furkan Korkmaz ($2,033,160) 3
Amir Johnson ($1,618,486): Early Bird rights
T.J. McConnell ($1,618,486): Bird rights
Greg Monroe ($1,618,486): Non-Bird rights
Total: $67,791,938
Projected Salary Cap: $109,000,000
Projected Tax Line: $132,000,000
Offseason Cap Outlook

Realistic cap room projection: $0

This projection assumes that the Sixers retain both Butler and Harris, whose cap holds total nearly $53MM combined. In that scenario, Philadelphia would almost certainly remain an over-the-cap team.
Maximum cap room projection: $59.2MM
This is the Sixers' cap room projection in the event that Butler, Harris, and Redick are all renounced. That seems extremely unlikely.
There are several variations that fall somewhere in between having no cap room and having $59MM+. For instance, if the 76ers only re-sign Butler, renouncing Harris and Redick, they could have $29.4MM in space. If they only bring back Harris and not those other two free agents, that figure could be $37.9MM. Re-signing Harris and Redick without Butler could result in $22.8MM in space, or even more if Redick signs for less a salary worth less than his cap hold.
Of course, other players, such as Ennis, Scott, and Pasecniks, could be wild cards here — the above projections assume that they're not on next season's roster.
Cap Exceptions Available
Trade exception: $957,480 (expires 11/12/19)
Trade exception: $2,339,880 (expires 2/7/20)
Mid-level exception: $9,246,000 4
Bi-annual exception: $3,619,000 4
Footnotes
Simmons' salary becomes fully guaranteed after July 1.
Pasecniks was the 25th overall pick in the 2017 draft. His cap hold (the equivalent to the 25th overall pick in the 2019 draft) will remain on the Sixers' books unless the team receives permission to remove it, which would ensure Pasecniks won't be signed in 2019/20.
Because Korkmaz' fourth-year rookie scale option was declined, the Sixers are ineligible to offer him a starting salary greater than his cap hold.
These are projected values. If the Sixers are at risk of going into tax territory, they may forfeit the bi-annual exception and have to use the taxpayer mid-level exception ($5,711,000) rather than the full mid-level exception. In the event they use cap room, they'd lose these exceptions, plus their trade exceptions, and would instead would gain access to the $4,760,000 room exception.
Note: Minimum-salary and rookie-scale cap holds are estimates based on salary cap projections and could increase or decrease depending on where the cap lands.
Salary information from Basketball Insiders and RealGM was used in the creation of this post. Photo courtesy of USA Today Sports Images.