After years of postseason disappointment, everything went right for the Raptors in 2018/19. Kawhi Leonard stayed healthy and proved he still belongs in the conversation about the best player in the NBA. Pascal Siakam emerged as the league's Most Improved Player. Marc Gasol arrived in a deadline deal to help tighten up the club's defense and improve its ball movement on offense. And after impressive series wins over Philadelphia and Milwaukee, Toronto knocked off the two-time defending champion Warriors to win the first title in team history.
Here's where things currently stand for the Raptors financially, as we continue our Offseason Salary Cap Digest series for 2019:
Guaranteed Salary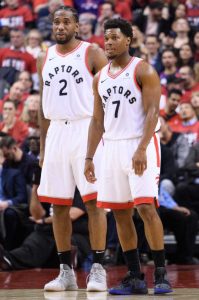 Kyle Lowry ($34,996,296)
Serge Ibaka ($23,271,604)
Norman Powell ($10,116,576)
Fred VanVleet ($9,346,153)
Pascal Siakam ($2,351,839)
OG Anunoby ($2,281,800)
Justin Hamilton ($1,000,000) — Waived via stretch provision.
Chris Boucher ($125,000) — Partial guarantee. Non-guaranteed portion noted below. 1
Jordan Loyd (two-way)
Total: $83,489,268

Player Options
Team Options
Non-Guaranteed Salary
Malcolm Miller ($1,588,231) 2
Chris Boucher ($1,463,231) 1
Total: $3,051,462
Restricted Free Agents
Nando De Colo ($1,828,750 qualifying offer / $1,901,900 cap hold): Early Bird rights 3
Patrick McCaw ($1,876,700 qualifying offer / $1,876,700 cap hold): Non-Bird rights
Total: $3,778,600

Unrestricted Free Agents / Other Cap Holds
Danny Green ($15,000,000): Bird rights
Lucas Nogueira ($8,841,915): Bird rights 3
Jeremy Lin ($1,618,486): Non-Bird rights
Jodie Meeks ($1,618,486): Non-Bird rights
Eric Moreland ($1,618,486): Non-Bird rights
Jason Thompson ($1,618,486): Non-Bird rights 3
Total: $30,315,859
Projected Salary Cap: $109,000,000
Projected Tax Line: $132,000,000
Offseason Cap Outlook

Realistic cap room projection: $0

If Gasol opts in or Leonard re-signs with the Raptors, the team will be over the cap. If both happen, another year in luxury tax territory is probably on tap for the franchise. Should both players depart, the Raps could technically create up to about $20MM in cap room, but it would mean waiving Miller and Boucher and renouncing all their other free agents too.
Cap Exceptions Available
Trade exception: $2,947,320 (expires 7/18/19)
Trade exception: $1,569,360 (expires 2/6/20)
Trade exception: $1,512,601 (expires 2/7/20)
Trade exception: $2,536,898 (expires 2/7/20)
Mid-level exception: $9,246,000 4
Bi-annual exception: $3,619,000 4
Footnotes
Boucher's salary becomes fully guaranteed on the first day of the season.
Miller's salary becomes fully guaranteed after July 24.
The cap holds for De Colo, Nogueira, and Thompson remain on the Raptors' books because they haven't been renounced after going unsigned in previous years. They can't be used in a sign-and-trade deal.
These are projected values. If the Raptors are at risk of going into tax territory, they may forfeit the bi-annual exception and have to use the taxpayer mid-level exception ($5,711,000) rather than the full mid-level exception. In the event they use cap room, they'd lose these exceptions, plus their trade exceptions, and would instead would gain access to the $4,760,000 room exception.
Note: Minimum-salary and rookie-scale cap holds are estimates based on salary cap projections and could increase or decrease depending on where the cap lands.
Salary information from Basketball Insiders, ESPN, and RealGM was used in the creation of this post. Photo courtesy of USA Today Sports Images.