JULY 6: The Bucks have officially re-signed Lopez, the team announced today in a press release.
JUNE 30: Adrian Wojnarowski of ESPN is reporting that free agent big man Brook Lopez is planning to sign a four-year, $52MM deal to stay with the Bucks. As I wrote earlier today, Gery Woelfel of Woelfel's Press Box first reported that Lopez was a good bet to return. There will be no options on the deal, tweets Jeff Zillgitt of USA Today.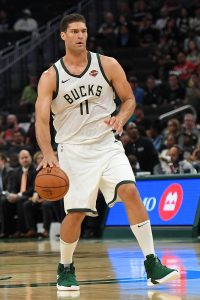 Lopez, who signed with the Bucks last season for the bi-annual exception worth only $3.4MM, will get a substantial raise after becoming an essential part of the Bucks' growth into a championship contender under new coach Mike Budenholzer.
Matt Velazquez of the Milwaukee Journal Sentinel reports that it's still unclear how Lopez's contract will be structured, with the two likeliest possibilities being a flat $13MM per season through 2022/23 or a lower starting salary with standard 5% raises (Milwaukee can't offer 8% raises because they only have Lopez's Non-Bird rights).
Additionally, because the Bucks only have Lopez's Non-Bird rights, they will need to renounce the cap holds for both Lopez and Nikola Mirotic and then re-sign Lopez using cap space. In order to retain the most space, Milwaukee will likely opt for the latter structure for Lopez's contract.
The Kings were said to have interest in Lopez (along with a lot of other centers it would seem), as were the Lakers (link), but the Bucks and he were always motivated to get a deal done early in free agency.
The 31-year-old center, who was an All-Star with the Nets earlier in his career, will look to continue his improved three-point shooting next season after converting a career-high 36.5% from long range during the 2018/19 campaign.
Photo courtesy of USA Today Sports Images.