After a torrid second-half run to finish the 2017/18 season, the Jazz entered the 2018/19 campaign widely viewed as a probable top-four seed in the Western Conference. A brutal first-half schedule ultimately prevented Utah from reaching that goal, but the team finished strong again and reached the 50-win mark.
Unfortunately, for a second straight postseason, the Jazz found themselves matched up against their nemeses in Houston, and were unable to take more than a single game from the Rockets. The Jazz had a pretty quiet offseason a year ago, but in the wake of their early exit from the playoffs, they appear far less likely to run it back with the same roster again.
Here are five key questions facing the franchise this summer:
1. How drastically will the Jazz change their roster?

A year ago, the Jazz bet on continuity and the continued improvement of young players like Donovan Mitchell and Dante Exum. The team figures to take a different approach this time around, as newly-promoted president of basketball operations Dennis Lindsey indicated at season's end.
"We want to move the group forward," Lindsey told reporters after the Jazz were eliminated from the postseason. "And while we have a very good team, the results told us that we don't have a great team."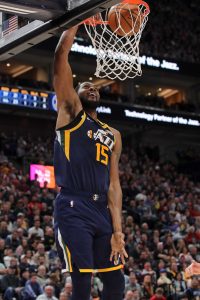 Lindsey's comments suggest changes are on the way, but we know that the Jazz aren't about to rebuild their roster from the ground up. Mitchell and Rudy Gobert are safe. Joe Ingles probably isn't going anywhere either. However, there may not be many guarantees beyond that.
Derrick Favors has been in Utah since coming over from the Nets as the centerpiece of the Deron Williams trade in 2011, but his $17.6MM salary for next season is non-guaranteed, and he isn't a lock to return.
Ricky Rubio has been the Jazz's starting point guard for the last two seasons, but he told an international outlet earlier this month that he may not be in the team's plans going forward.
The Jazz have been high on Exum since selecting him fifth overall in the 2014 draft, but after another injury-plagued season, it's not clear how much longer the Australian point guard will be a fixture in Utah.
The Jazz's core isn't going anywhere, but there's a possibility the pieces around them will look significantly different in 2019/20.
2. What will the Jazz do with Favors?

While Gobert and Favors have never quite been the ideal pairing in Utah's frontcourt, the duo has made it work, and Favors has been better than ever in recent years.
The one-time Net, who starts alongside Gobert at power forward and also backs him up at center, averaged 11.8 PPG, 7.4 RPG, and 1.4 BPG with a career-best .586 FG% in just 23.2 minutes per game last season. While a $17.6MM salary might be a slight overpay for Favors, you could find a less favorable contract on nearly every NBA team's cap.
The fact that Favors' salary is non-guaranteed presents an interesting dilemma for the Jazz though. If  he's waived by July 6, the team could open up enough cap room to sign a maximum-salary free agent, or to sign multiple players for more than the mid-level. Releasing Favors or inserting him in a trade package could also be a path to acquiring an impact player (such as Mike Conley) via trade.
Because Favors isn't on an expiring contract and would have to be released to accommodate another major move, the Jazz wouldn't retain his Bird rights, which would severely limit the club's ability to re-sign him later in free agency. So does Utah bring back Favors at his $17.6MM price tag and make do with about $20MM+ in potential cap space, or take a bigger swing by cutting him?
3. Is landing a top free agent a possibility for the Jazz?

Fortunately for the Jazz, the Favors question may be indirectly answered based on what the club is able to do on the trade market around the draft, or on the free agent market in the first week of July. Because Favors' salary doesn't become fully guaranteed until July 6, the team has some time to evaluate its options before determining whether it will actually need the extra cap flexibility that waiving the big man would create.
Although Utah hasn't historically been a top free agent destination and this management group has never recruited a big-money star, the Jazz have been linked to a handful of top FAs this spring. The club is reportedly considering making a run at Tobias Harris, while D'Angelo Russell is considered another target, and so is Kemba Walker.
Do the Jazz actually have a shot at any of these players? Well, Russell – a restricted free agent – is probably only a realistic target if the Nets pull his qualifying offer on the table, since Utah won't want to waive Favors only to sign Russell to an offer sheet that might be matched. Even then, would Harris, Russell, or Walker choose Utah over their incumbent teams, or the other bigger-market suitors who will be pursuing them?
It's impossible to say at this point. I wouldn't consider the Jazz the favorites for any of those players, but they'll have the cap flexibility to make a competitive offer. And there are far worse situations for a veteran like Harris or Walker than playing alongside a scorer like Mitchell and a defensive stopper like Gobert.
If the Jazz strike out on top targets, retaining Favors and using their remaining cap room to add a couple mid-level type players wouldn't be a bad fallback plan.
4. How will the Jazz address their point guard position?

If Rubio is right that the Jazz don't consider him a priority, the team is likely thinking bigger. After all, there are only a handful of point guards available this summer who would represent legit upgrades over the Spaniard.
We mentioned two above — Walker and Russell would be nice fits with the Jazz since they're point guards who are capable of sharing ball-handling duties with Mitchell and reliably knocking down outside shots when they're playing off-ball. Rubio has never been that kind of three-point threat.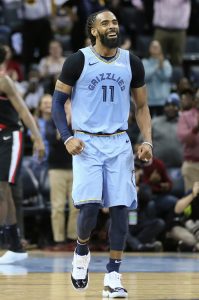 Still, the best fit for Utah might be Conley, a player whom the team nearly acquired from the Grizzlies at the trade deadline. A smart, heady veteran like Conley could help make Jazz players better in the same way that his longtime teammate Marc Gasol did when he arrived in Toronto earlier this year. Conley is also coming off an All-Star caliber season and would give Utah another play-maker who can break down defenses, taking some pressure off Mitchell.
When the Jazz and Grizzlies discussed Conley prior to the 2019 trade deadline, there were rumors that Memphis wanted the Jazz to add an extra first-round pick or Exum to their offer, which was a deal-breaker for Utah. The Grizzlies' interest in Exum may have waned now that they're in position to draft Ja Morant. Perhaps Memphis would be swayed by an offer that features Favors' expiring deal, a couple first-round picks (including this year's No. 23), and cap relief.
If the Jazz strike out on Conley, Walker, and Russell, circling back to Rubio might be a possibility. If that ship has sailed, Patrick Beverley and Darren Collison are among the most desirable free agents available at the position. A veteran on an expiring contract like Jeff Teague or Goran Dragic might hold some appeal too, if the Wolves or Heat are looking to dump their salaries.
5. Will Dante Exum be a trade candidate?

When the Jazz acquired Rubio two years ago, there was some hope that he'd help bridge the gap at point guard until Exum – who was just 22 years old at the time – was ready to take on a greater role.
The former top-five pick has appeared in just 56 games since then, and while he has flashed tantalizing upside at times, it's hard to count on him for more than backup minutes at this point. In fact, even that may be optimistic, given his health issues.
As noted above, the Jazz have never given up on Exum, re-signing him to a fully guaranteed three-year, $28.8MM contract last summer. But now they find themselves in a tough spot. If contending for a title in the near future is the goal, it might make more sense to send Exum to a team that can better afford to roll the dice on his upside rather than continuing to exercise patience and waiting for the youngster to grow into a larger role.
The Jazz may have no choice but to remain patient on Exum though — after undergoing another procedure on his knee in March, his value is at a low point and he no longer represents much more than salary filler in any deal. If Utah sticks with him, maybe he gets healthy and rebuilds his value next season.
---
Check out the Utah Jazz's offseason salary cap outlook right here.

---
Salary information from Basketball Insiders was used in the creation of this post. Photos courtesy of USA Today Sports Images.