JULY 8: The first-round pick going to Brooklyn in the deal is the Warriors' 2020 pick, according to Michael Scotto of The Athletic, who tweets that it will be top-20 protected. If it falls in that range – and it very well could, given Golden State's roster changes – the Nets would instead receive the Warriors' 2025 second-round pick, per Scotto.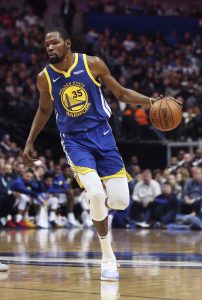 JULY 7: The Nets and Warriors have officially completed the sign-and-trade deal that sends Kevin Durant and a protected 2020 first-round pick to Brooklyn in exchange for D'Angelo Russell, Treveon Graham, and Shabazz Napier, the two teams announced in a pair of press releases.
"Kevin is a champion, perennial All-Star and one of the great players of this, or any, generation," Nets general manager Sean Marks said in a statement. "Adding a player of Kevin's caliber to our organization elevates our ability to compete with the elite teams in this league. His tremendous abilities and dedication to his craft have made him as talented an offensive player our game has ever seen and we, as well as all of Brooklyn, are thrilled to welcome Kevin and his family to the Nets."
Durant initially agreed to sign with the Nets outright using their cap room, but the Warriors engaged them in discussions last Sunday night and eventually agreed to a deal that would include a pair of sign-and-trades — Durant to Brooklyn and D'Angelo Russell to Golden State. Russell, a restricted free agent, became expendable when the Nets finalized agreements with Durant and Kyrie Irving.
"We're excited to add a player of D'Angelo's ability to our roster," Warriors president of basketball operations Bob Myers said in his team's announcement. "He's coming off an All-Star season with the Nets and we feel, at the age of 23, his best basketball is certainly ahead of him in regards to his career trajectory."
In order to incentivize the Nets to accommodate the Russell sign-and-trade, the Warriors sent a future draft pick to Brooklyn, and will also take on Graham and Napier — those two players will be flipped to Minnesota in a subsequent deal.
Durant, who is recovering from a torn Achilles, isn't expected to be ready to return until the 2020/21 season, but the Nets have him the long-term — he reportedly agreed to a four-year contract (with a fourth-year player option) that will be worth the maximum salary, or possibly slightly below it to accommodate DeAndre Jordan's deal with the club.
Meanwhile, the Warriors will be hard-capped at $138.9MM as a result of acquiring Russell via sign-and-trade, which will limit their ability to make roster moves during the 2019/20 league year. The club already had to send Andre Iguodala and his $17MM+ salary to Memphis in a cost-cutting measure.
Photo courtesy of USA Today Sports Images.