[UPDATE: The agreement between Morris and the Spurs has fallen apart, and he has instead opted to sign with the Knicks.]
The Spurs have agreed to terms with free agent forward Marcus Morris, according to Shams Charania of The Athletic, who reports (via Twitter) that Morris will sign a two-year, $20MM contract with San Antonio. The deal will feature a second-year player option, Charania adds.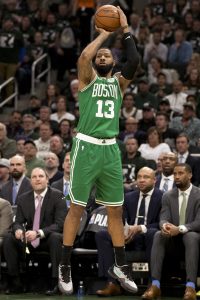 It appeared the Spurs wouldn't have the flexibility to sign a player like Morris after seemingly committing most of their mid-level exception to DeMarre Carroll. However, San Antonio will acquire Carroll in a sign-and-trade after by sending Davis Bertans to Washington. That frees up the full mid-level, which will be used to sign Morris, as Jabari Young of The Athletic confirms (via Twitter).
Technically, Morris' new deal will be worth just shy of $19MM over two years, with a first-year salary of $9.26MM. Using the full mid-level and acquiring Carroll via sign-and-trade will hard-cap the Spurs.
Morris, who earned the No. 22 spot on our list of this offseason's top 50 free agents, was probably the most notable name still on the board after Kawhi Leonard and DeMarcus Cousins agreed to sign with the Clippers and Lakers, respectively. The 29-year-old had a solid year in Boston as the Celtics' primary starting forward, averaging 13.9 PPG, 6.1 RPG, and 1.5 APG with a .447/.375/.844 shooting line.
Marcus is the second Morris twin to agree to a new contract this week — his brother Markieff Morris joined the Pistons on a two-year deal of his own.
As for the Spurs, they could still be in the market for one more veteran big man, but they only have the minimum salary exception available and will remain patient, according to Young.
Photo courtesy of USA Today Sports Images.