Hoops Rumors is breaking down the 2019 offseason for all 30 NBA teams, revisiting the summer's free agent signings, trades, draft picks, departures, and more. We'll evaluate each team's moves from the last several months and look ahead to what the 2019/20 season holds for all 30 franchises. Today, we're focusing on the Detroit Pistons.
Signings:
Standard contracts:
Two-way contracts:
Non-guaranteed camp contracts:
Trades:
Draft picks:
1-15: Sekou Doumbouya — Signed to rookie contract.
2-37: Deividas Sirvydis — Will play overseas.
2-55: Jordan Bone — Signed to two-way contract.
Waiver claims:
Christian Wood (from Pelicans): One year, minimum salary contract. Claimed using minimum salary exception.
Departing players:
Other offseason news:
Salary cap situation:
Remained over the cap.
Hard-capped.
Carrying approximately $130.98MM in guaranteed salary.
$1.94MM of mid-level exception still available (used $7.32MM on Derrick Rose).
$423K of bi-annual exception still available (used $3.2MM on Markieff Morris).
Two traded player exceptions available; largest TPE ($2.5MM) expires 2/6/20.
---
Story of the summer:
Since acquiring Blake Griffin prior to the 2018 trade deadline, the Pistons have had little flexibility to make changes to the supporting cast around their new star player. Griffin's massive contract restricts Detroit's maneuverability to some extent, but the veteran forward earned his pay check in 2018/19, putting up some of the best numbers of his career and finding his way back onto the All-Star and All-NBA teams for the first time since 2015.
It's the Pistons' other highly-priced players who have hampered the team's flexibility to a greater extent. Andre Drummond and Reggie Jackson will earn a combined $45MM+ during the 2019/20 season, joining Griffin to form a de facto "Big Three" in Detroit. But you could make a case that Drummond isn't among the NBA's 10 best centers, while Jackson isn't one of the league's best 15 point guards.
Drummond and Jackson are probably more valuable to the Pistons than they would be as trade chips, so the club once again stuck with both players through the 2019 offseason. But with their contracts – and Griffin's – still on the books, Detroit's ability to make meaningful upgrades to other parts of the roster was limited.
The Pistons did manage to move Jon Leuer's oversized contract, but only to acquire another pricey role player in Tony Snell. The team also made use of its mid-level and bi-annual exceptions to bring in Derrick Rose and Markieff Morris. Rose is a former MVP and had a strong bounce-back season in 2018/19, but has had trouble staying healthy in recent years. Injuries were an issue for Morris last season too.
Given their lack of cap room, the Pistons probably did about as well as they could to add high-upside veterans to the mix this offseason. But the team still doesn't look like an upper-echelon contender in the Eastern Conference and may need to make more drastic changes to its roster in the future to realistically jump into that tier.
Key offseason losses:
Most veterans who sign with new teams during buyout season aren't expected to play major minutes, but that wasn't the case for Wayne Ellington, who was thrust into a starting role after joining the Pistons in February. His 12.0 PPG and 27.3 MPG in 28 games with Detroit would have been full-season career highs — his 7.8 three-point attempts per game would've been too. The Pistons benefited from both the volume and accuracy of Ellington's three-point shot, and will have to find ways to replace it in 2019/20.
Ish Smith was an important part of Detroit's roster over the last three seasons, backing up Jackson at the point and stepping in as the starter when Jackson was on the shelf. His speed and ability to break down defenses made him a particularly valuable asset on offense, though he regressed last season to his modest career efficiency rates after posting a career-best .486 FG% in 2017/18.
Jose Calderon and Zaza Pachulia spent a single season in Detroit, providing some veteran leadership but not a whole lot else — neither player averaged more than 13 minutes per contest.
Leuer and Glenn Robinson III also departed after injury-plagued stints with the Pistons.
Key offseason additions:
Assuming he stays healthy, Rose should be an upgrade over Smith in the backcourt. The two point guards have similar skill sets, but Rose is a more talented scorer and flashed an improved three-point shot in 2018/19, making 37.0% of his attempts for the Timberwolves.
Of course, health is the big "if" for the former Bull. His games-played totals for the last six seasons are 10, 51, 66, 64, 25, and 51. However, he also averaged more than 27 minutes per game in five of those six seasons. The Pistons may have the personnel to keep Rose fresher by playing him in shorter spurts, using another newly-acquired point guard, third-stringer Tim Frazier, to spell both Jackson and Rose occasionally. Frasier isn't an impact player, but he averaged 4.2 APG and shot 36.6% from beyond the arc last season.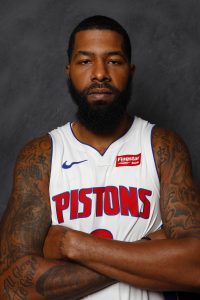 Although a neck injury sapped Morris of his abilities during the 2018/19 campaign, he's only a year removed from shooting .480/.367/.820 in 73 games for the Wizards. At just $3.2MM, he's a worthwhile gamble for the Pistons.
Speaking of worthwhile gambles, the Pistons got a pleasant surprise on draft night when forward Sekou Doumbouya fell to them at No. 15. Doumbouya, the youngest player in the NBA, probably won't make an immediate impact, but he's the sort of raw, high-upside prospect that playoff teams generally have a difficult time acquiring in the draft. While power forward is probably his natural position, he projects as an uber-versatile defender who can guard three or four positions.
Christian Wood and Joe Johnson also joined the Pistons this summer and are ostensibly competing for the last spot on the roster, though it's possible the club will find a way to keep both. If Detroit is forced to choose between the two, it will be interesting to see whether the team prioritizes the reliable but limited veteran (Johnson) or the inconsistent but talented youngster (Wood).
Outlook for 2019/20:
The Pistons finished the 2018/19 season with a 41-41 record, which feels about right for this group. In Griffin, Detroit has an impact player capable of singlehandedly elevating the team's ceiling, but there's just not enough talent on the rest of the roster to consider it a true contender, even in the Eastern Conference.
Dwane Casey is a talented coach, especially in the regular season, and if the Pistons can get a breakout season from a player like Luke Kennard, it would go a long way toward helping the club secure another playoff berth in 2020. But I have an easier time imagining the Pistons slipping out of the playoff picture and into the lottery than I do picturing them winning a series in the postseason.
Salary information from Basketball Insiders was used in the creation of this post. Photos courtesy of USA Today Sports Images.