Hoops Rumors is breaking down the 2019 offseason for all 30 NBA teams, revisiting the summer's free agent signings, trades, draft picks, departures, and more. We'll evaluate each team's moves from the last several months and look ahead to what the 2019/20 season holds for all 30 franchises. Today, we're focusing on the Toronto Raptors.
Signings:
Standard contracts:
Two-way contracts:
Non-guaranteed camp contracts:
Trades:
Draft picks:
2-59: Dewan Hernandez — Signed to three-year, minimum-salary contract. First year partially guaranteed ($500K). Second and third years non-guaranteed. Signed using mid-level exception.
Contract extensions:
Pascal Siakam: Four years, 25% maximum salary. Projected value of $129,920,000. Starting salary can be worth between 28-30% of the cap if Siakam earns All-NBA or MVP honors in 2020 (full details). Starts in 2020/21; runs through 2023/24.
Kyle Lowry: One year, $30MM. Includes $500K All-Star bonus. Starts in 2020/21; runs through 2020/21.
Departing players:
Other offseason news:
Salary cap situation:
Remained over the cap.
Hard-capped.
Carrying approximately $125.15MM in salary.
$961K of mid-level exception still available (used $8.3MM on Patrick McCaw, Rondae Hollis-Jefferson, Matt Thomas, and Dewan Hernandez).
Three traded player exceptions available; largest TPE ($2.54MM) expires 2/7/20.
---
Story of the summer:
Generally speaking, the Raptors received high grades at the time for the 2018 blockbuster that saw them acquire Kawhi Leonard and Danny Green from the Spurs without surrendering young building blocks like Pascal Siakam or OG Anunoby.
However, some skeptics questioned the wisdom of giving up a perennial All-Star like DeMar DeRozan for Leonard, who was on an expiring contract and didn't even want to be in Toronto. Kawhi had also been limited to just nine games the year before due to a quad injury, creating further uncertainty about what exactly the Raptors were getting in that deal.
The concern that Leonard would be a one-year rental was real, even if early speculation that he wouldn't even report to Toronto was invented. But after years of disappointing playoff runs, the Raptors had determined it was time for a change. To president of basketball operations Masai Ujiri, the risk of Leonard being one-and-done was worth it, since a healthy Kawhi would give the club a legit chance to make the NBA Finals.
Ujiri's bet paid off in a big way, as Leonard didn't just give the Raptors a chance at a title — he led the way as the franchise secured its first-ever championship. It took some good luck along the way – including a fortunate roll on Leonard's series-ending buzzer beater against the Sixers and a Finals matchup against a Warriors team missing Kevin Durant – but Toronto was one of the NBA's best teams all season long, and peaked at exactly the right time.
While Ujiri was ultimately right to make that move for Leonard, the skeptics who were concerned about the star forward being a rental were proven right too. Once free agency rolled around, the Los Angeles native decided to head home, joining the Clippers just three weeks after winning a Finals MVP award with the Raptors.
Leonard's departure stung in Toronto. After all, the hangover from the championship celebration had barely worn off by the time fans found out the team's best player wouldn't be back. Still, having that title under their belts made it a whole lot easier for the Raptors and their fans to move on.
Unlike when the Cavaliers lost LeBron James in 2018, losing their star player won't immediately force the Raptors into rebuilding mode. The team's cap sheet is relatively clean going forward, and Siakam, Anunoby, and Fred VanVleet give Toronto a few intriguing pieces to build around, with accomplished veterans like Kyle Lowry, Marc Gasol, and Serge Ibaka still poised to play major roles in the short term.
Key offseason losses: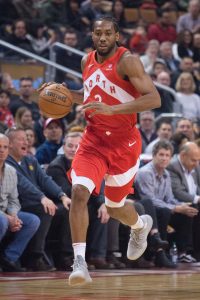 There will be no way for the Raptors to adequately replace Leonard, a two-way superstar who ranked sixth in the NBA in scoring and earned All-Defensive honors during the regular season before taking his game to another level in the playoffs.
Leonard nearly singlehandedly dragged the Raptors past Philadelphia in the Eastern Conference Semifinals. He then helped flip the script after the Raptors fell behind the Bucks 2-0 in the Eastern Finals when he became the primary defender on Giannis Antetokounmpo. He topped off his historic run by being named the Finals MVP against Golden State and finishing the postseason with 732 total points, the third-best mark in league history.
Of course, while Leonard's departure rightly got all the headlines during that first weekend in July, the loss of Green shouldn't be overlooked. The veteran sharpshooter nearly earned All-Defensive honors himself and made a career-best 45.5% of his three-point attempts, providing positive value on both ends of the floor.
Green struggled with his shot during the club's playoff run, but Toronto wouldn't have gotten as far as it did without him. And while replacing Green's production is a little more realistic than replacing Leonard's, the Raptors won't be able to simply plug in a player who's capable of shooting like Green while playing the same kind of suffocating defense.
Besides those two former Spurs, Toronto also lost Jeremy Lin, Jodie Meeks, and Eric Moreland, all of whom were in and out of the club's rotation after coming aboard during the season. All three players have had better years than they did in 2018/19 for the Raptors, so the front office won't lose any sleep about having to replace them.
Key offseason additions:
Recognizing that they weren't going to be able to sign a player of Leonard's or Green's caliber with the mid-level exception, the Raptors used part of their mid-level and the full bi-annual exception to sign a pair of free agents who at least might be capable of approximating their impact on the defensive end.
Former first-round picks Stanley Johnson and Rondae Hollis-Jefferson each signed short-term contracts with the team in the hopes of filling one of those newly-opened spots in the starting lineup or at least earning a regular role in the frontcourt rotation.
There's reason to believe the Raptors, who have done strong developmental work with players like Siakam and VanVleet in recent years, could unlock some untapped potential in Johnson and/or Hollis-Jefferson, but it hasn't worked out that way so far. A week before the regular season began, head coach Nick Nurse publicly called out Toronto's new veterans for not playing with the kind of effort the team expects. Neither Johnson nor RHJ has logged many minutes for the club since the season began, though there's still plenty of time for them to get out of the doghouse.
The Raptors have been a little more impressed in the early going with a pair of undrafted rookies who signed guaranteed minimum-salary contracts over the summer. Terence Davis, a guard who went undrafted out of Ole Miss this June, has drawn comparisons to VanVleet and played well enough in the preseason to warrant a look in the rotation.
Matt Thomas, meanwhile, spent his first two professional seasons in Europe after going undrafted in 2017. The former Iowa State standout was one of the top three-point shooters in Spain last season, and while he stills needs to work on his defense, it looks like that outside shot is a transferable skill — he knocked down 7-of-15 threes in the preseason, and 5-of-8 so far in the regular season.
Dewan Hernandez, the Raptors' lone pick in this year's draft, is more of a developmental project and figures to spend plenty of time in the G League as a rookie.
Outlook for 2019/20:
It's a safe bet that the Raptors won't repeat as NBA champions in 2019/20. However, this team won't fall off the map after losing its superstar.
Lowry, a five-time All-Star, is still capable of being the most impactful player in a game, whether or not that impact shows up on the stat sheet. Siakam is morphing into the kind of player who could become a perennial All-Star himself. That duo – extended this offseason – is complemented by a handful of quality role players and another young breakout candidate in Anunoby, which is more than enough to claim a playoff spot in the East.
The Raptors' ceiling will hinge in part on what Siakam, Anunoby, and VanVleet are capable of, and partly on whether the team's lack of reliable depth will become an issue. But it wouldn't be at all surprising to see Toronto claim a top-four seed and win a playoff series this spring.
Salary information from Basketball Insiders was used in the creation of this post. Photos courtesy of USA Today Sports Images.