If you missed any of this past week's biggest headlines from around the NBA, we've got you covered with our Week in Review. Here are some of the most noteworthy stories from the last seven days: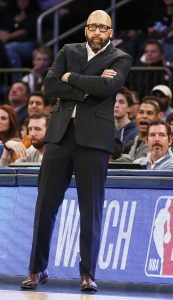 The first coaching change of the new season took place Friday when David Fizdale was axed in New York after a 4-18 start. Mike Miller takes over the team on an interim basis, and rumors are circulating that team president Steve Mills could be next in line to be fired or reassigned.
There's also coaching unrest in Cleveland, where a report suggests that players are tuning out John Beilein. The 66-year-old is in his first NBA season after a successful NCAA career, and several players complain that he is running the Cavaliers too much like a college team.
With the Cavs off to a 5-16 start, there are rumblings that the team has started listening to offers for Kevin Love. The five-time All-Star is in the first year of a four-year, $120.4MM extension that he signed last summer.
Carmelo Anthony's strong play since signing with the Trail Blazers has earned him a fully guaranteed contract for the rest of the season. Anthony will receive a prorated amount of the $2.15MM veteran's minimum.
The Rockets protested Tuesday's loss in San Antonio after an odd play in which a dunk by James Harden wasn't counted. After the ball went through the net, it popped out in front of the hoop, leading the officials to believe it wasn't a made basket. Commissioner Adam Silver will rule on the protest later this month.
Here are 10 more noteworthy headlines from around the basketball world this week:
Photo courtesy of USA Today Sports Images.