Now that he has officially been a member of the Lakers for six months, Anthony Davis became eligible today to sign a four-year, $145.7MM extension with the team, and L.A. put that offer on the table, according to Chris Haynes of Yahoo Sports. However, sources tell Haynes that Davis will pass on an in-season extension in favor of reaching unrestricted free agency this summer.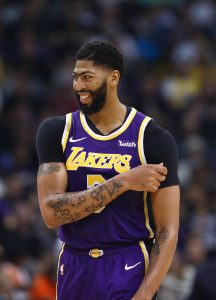 Davis' decision to decline the Lakers' offer doesn't mean he's thinking about leaving the team. While it's possible he wants to keep his options open, it makes financial sense for him to turn down an extension now even if he's 100% committed to the Lakers. As a free agent, he'll be eligible to sign a five-year contract worth nearly $202MM with the club, based on the NBA's most recent cap projections.
Although Davis is expected to decline his 2020/21 player option to become a free agent in the offseason, no one in league circles expects him to leave the Lakers, according to Haynes, who says the star big man wants to focus solely on the current season at this time.
Davis, 26, has been an MVP candidate and Defensive Player of the Year frontrunner so far in 2019/20, averaging 27.7 PPG, 9.5 RPG, 3.2 APG, and 2.6 BPG in 34 games (35.4 MPG) for the 29-7 Lakers, who lead the Western Conference by four games. His next contract will certainly be a maximum-salary deal, but in-season extensions are limited to starting salaries worth 120% of a player's current salary and can only be for five years total, including the current season, so they often aren't true max contracts.
For Davis, a 20% raise on his current $27.09MM salary would work out to $32.51MM. His maximum 2020/21 salary if he waits until the offseason projects to be $34.8MM. Additionally, his Bird rights would make him eligible for five full years on a new contract if he re-signs with the Lakers at that time. He'd be limited to a four-year deal if he changes teams.
Davis was ineligible for an extension for the last six months because he waived his trade kicker as part of the blockbuster deal that sent him from New Orleans to Los Angeles last July.
Photo courtesy of USA Today Sports Images.