Over the course of the 2019/20 NBA season, up until February's trade deadline, we're keeping an eye on potential trade candidates from around the NBA, monitoring their value and exploring the likelihood that they'll be moved. Each of these looks at possible trade candidates focuses on a specific division, as we zero in on three players from that division.
The Atlantic is perhaps the most confounding NBA division when it comes to the trade deadline. The Raptors, Celtics, and Sixers are all potential contenders to come out of the East and may theoretically be looking to make upgrades, but their contract situations make it tricky to identify specific moves that would help.
The Nets are essentially in a holding pattern until they get their full roster healthy next season. The Knicks as sellers appeared to be the only safe bet on the board in the Atlantic, but they've resisted that label to some extent.
As we wait to see how the Atlantic teams approach the deadline, here are three (or four) more potential trade candidates from around the division…
Dennis Smith Jr., PG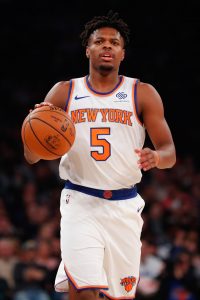 New York Knicks
$4.5MM cap hit; $5.7MM guaranteed salary in 2020/21; RFA in 2021

A report last month indicated that teams, including the Timberwolves, had expressed some interest in Smith. There are plenty of factors complicating a potential deal though. For one, he was sidelined for a month with an oblique strain before returning last night, and will probably have to show he's fully healthy before the deadline to increase the odds of a trade. That means the Knicks will have to give him more playing time than the four minutes he received on Wednesday.
Even then, Knicks management may be reluctant to move Smith without a decent return, since doing so would represent a further admission that last year's blockbuster with the Mavs isn't working out. The team already failed to land a star with the 2019 cap room created in that deal, and the two future first-round picks owed to New York almost certainly won't be as valuable as initially hoped, given Dallas' improvement.
Considering how poorly Smith has played in limited minutes this season, it's hard to see the Knicks netting more than a low second-round pick and salary filler in exchange for Smith. The club may decide it would rather take its chances on DSJ turning things around and recapturing some of the potential that made him a top-10 pick in 2017.
A trade before the deadline is a possibility, but I think it'd be more likely if the same executives who acquired Smith a year ago weren't the same ones tasked to decide whether or not to move him.
Raul Neto / Trey Burke, PG
Philadelphia 76ers
$1.62MM cap hit; UFA in 2020

Neither Neto nor Burke has really been involved in any rumors yet, but they're trade candidates in a roundabout way. The Sixers have been linked to point guards who could be on the trade block, and if the team actually acquires a point guard, either Neto or Burke would become expendable.
The 76ers have gone back and forth this year between Neto and Burke as the primary backup to Ben Simmons, so it's not entirely clear who would be the odd man out if the team makes a move to fortify its backcourt.
Both players are on minimum-salary contracts that expire at season's end, meaning there's no financial incentive to move one over the other. Neto is the better defender and perhaps the steadier floor general, but he doesn't possess Burke's play-making or scoring ability. The on/off-court numbers favor Burke — the Sixers have a +7.2 net rating when he plays, compared to +1.2 for Neto.
If the 76ers end up standing pat or focus on improving another area, both Neto and Burke could certainly finish the season in Philadelphia. But if they go out and acquire another guard, I'd expect the Sixers to try to find a trade partner interested in acquiring Neto or Burke as a third point guard.
Rodions Kurucs, F
Brooklyn Nets
$1.7MM cap hit; $1.8MM guaranteed salary in 2020/21; $1.9MM team option for 2021/22

After a promising rookie season, Kurucs has taken a step backward in 2019/20. Despite a series of injury creating a path to a regular role for the Latvian forward, he doesn't seem to have fully earned Kenny Atkinson's trust. His minutes per game have dipped from 20.5 to 13.3 and he's received several DNP-CDs.
There are some promising numbers in this year's small sample, including a .439 3PT%, and teams monitoring the Nets may view Kurucs as a buy-low candidate. However, off-court concerns may scare those teams away, since the 21-year-old was arrested during the offseason on a domestic violence charge.
We heard in December that there are teams doing their homework on Kurucs to see if he makes sense as a trade target. Presumably, that research centers on the domestic violence allegation — if it's credible, clubs will be less enthusiastic about the idea of making a deal for the former second-round pick.
Kurucs is due back in court on February 11, meaning there will be no resolution in his legal case by the February 6 trade deadline. As a result, it's hard to see him being moved.
Revisit the rest of our 2019/20 Trade Candidate series right here.
Photo courtesy of USA Today Sports Images.