Over the course of the 2019/20 NBA season, up until February's trade deadline, we're keeping an eye on potential trade candidates from around the NBA, monitoring their value and exploring the likelihood that they'll be moved. Each of these looks at possible trade candidates focuses on a specific division, as we zero in on three players from that division.
With just nine days left until the 2020 trade deadline, we've surveyed each of the NBA's divisions three times this season, identifying three potential trade candidates during each go-round. So far, every one of the five in-season trades completed in 2019/20 has included at least one player we've previously discussed as a trade candidate. Here's the full list.
Although we may not have time to circle back through all six divisions a fourth time, we're revisiting the Central today, taking a look at three more possible trade candidates. Let's dive in…
Denzel Valentine, SG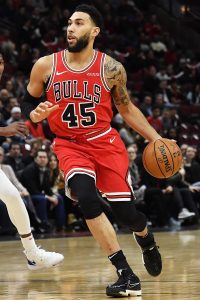 Chicago Bulls
$3.4MM cap hit; RFA in 2020

While Valentine has been in and out of the Bulls' rotation this season, any teams keeping an eye on him Monday night were rewarded with perhaps his best game of 2019/20. He racked up 16 points and made 4-of-6 three-point attempts with a +19 rating in 19 minutes.
The performance provided a glimpse of what kind of value Valentine can bring as a rotation player when things are going well. However, he seems increasingly unlikely to reach his potential in Chicago. Since a solid 2017/18 season, the 26-year-old has appeared in just 27 games due to ankle issues and Jim Boylen's rotation decisions. Restricted free agency is on tap for the fourth-year wing this summer, and I'd be surprised if he's in the Bulls' plans moving forward.
Given his modest cap hit, controllable rights and .377 career 3PT%, Valentine may appeal to teams looking for a low-cost shooter. The Bulls shouldn't expect a substantial return, but if they can get a second-round pick out of a deal, it might be an offer worth taking.
Derrick Rose, PG
Detroit Pistons
$7.3MM cap hit; guaranteed $7.68MM salary in 2020/21; UFA in 2021

Like Dwight Howard in Los Angeles, Rose has experienced an impressive resurgence this season. The former MVP isn't the superstar he once was, but he has been the Pistons' most reliable scorer, with 18.8 PPG in just 26.6 MPG through 41 contests. He's a walking bucket and could be a formidable play-making threat for a contender if Detroit decides to move him.
It certainly seems that there has been interest. The Lakers and Sixers were recently cited as potential suitors, with the Clippers also reportedly inquiring. The Pistons may actually have a better chance of acquiring a first-round pick for Rose than they would for Andre Drummond, given the two players' respective contract situations and cap hits.
Still, with Rose currently battling a sore right knee, potential suitors will proceed with caution. Health has always been the concern for the former Bull, and a contending team willing to surrender a first-rounder for a roster upgrade may prefer to pursue a player with a less worrisome injury history.
John Henson, F/C
Cleveland Cavaliers
$9.7MM cap hit; UFA in 2020

Besides Tristan Thompson, whom we covered in an earlier look at the Central, the Cavaliers have three other veterans on pricey expiring contracts who could be on the move at this year's deadline. However, none of those players have positive trade value.
Brandon Knight ($15.6MM), Matthew Dellavedova ($9.6MM), and Henson are borderline rotation players, and the Cavs will be hard-pressed to acquire a real asset for any of them unless they're willing to take on some unwanted multiyear money.
Of the three, Henson looks like the most realistic trade candidate. Knight has barely played this season and is dealing with a knee injury, while Dellavedova's numbers have been dreadful. Henson, in a part-time role, has at least showed he's still capable of cleaning the glass and protecting the rim, with 10.0 rebounds and 3.0 blocks per 36 minutes. The Cavs also have a -1.4 net rating when he plays, compared to -9.8 when he sits.
Cleveland will still be hard-pressed to get much of value for Henson, but I'd expect the team to get more traction on him than some of its other expendable vets.
Revisit the rest of our 2019/20 Trade Candidate series right here.
Photo courtesy of USA Today Sports Images.