Over the course of the 2019/20 NBA season, up until February's trade deadline, we're keeping an eye on potential trade candidates from around the NBA, monitoring their value and exploring the likelihood that they'll be moved. Each of these looks at possible trade candidates focuses on a specific division, as we zero in on three players from that division.
After identifying three Northwest trade candidates in November and three more in December, including one who was dealt shortly thereafter, we're returning to the division today to identify another three players who could be dealt by February 6. Let's dive in…
Robert Covington, F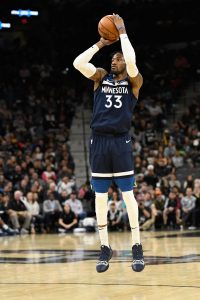 Minnesota Timberwolves
$11.3MM cap hit; $12.1MM guaranteed salary in 2020/21; $13.0MM guaranteed salary in 2021/22

Covington is one of the more intriguing potential trade chips on the market. Barring a huge second-half push led by Karl-Anthony Towns, the 15-24 Timberwolves are likely lottery-bound, so it makes sense for the team to be sellers at the deadline. However, Covington still has two more years on his contract beyond this season – at a very reasonable price – and is the sort of player a retooling team might want to hang onto.
As a strong perimeter defender and a reliable three-point shooter, Covington should draw interest from virtually every contender. There are some teams that wouldn't necessarily be suitable trade partners for Minnesota due to a lack of salary-matching options or valuable assets, but it's hard to find a club that wouldn't be an on-court fit for the 29-year-old forward.
New Timberwolves president of basketball operations Gersson Rosas spent most of the last two decades with the Rockets, whose front office always prioritized chasing superstars. If Rosas has brought that philosophy to Minnesota, it will be interesting to see what sort of return he'd seek for Covington. Getting a star in return is unlikely, but perhaps the Wolves could acquire draft picks and/or prospects that could be used as the foundation of a package for an impact player down the road.
Juan Hernangomez, PF
Denver Nuggets
$3.3MM cap hit; RFA in 2020

Jerami Grant's arrival and Michael Porter Jr.'s return to health have made the Nuggets a deeper and more dangerous team than they were last season. However, what's been good for the franchise hasn't been good for Hernangomez's playing time — he's averaging just 11.9 minutes per game and frequently gets DNP-CDs after logging 19.4 MPG in 70 contests a year ago.
Hernangomez, who has played at least 20 minutes in a game just once since December 8, could reclaim an increased role if the Nuggets are hit by injuries at some point, but it's not as if he's been all that effective even when he gets to play. His 3.0 PPG, .356 FG%, and .267 3PT% are all career lows.
With potential restricted free agency on tap for Hernangomez this summer, it might be in everyone's best interests to grant the 24-year-old Spaniard a change of scenery. Unless the Nuggets still envision the fourth-year forward as a long-term rotation player, trying to extract a second-round pick for him now – or including him in a larger package for an upgrade – would make sense.
Justin Patton, C
Oklahoma City Thunder
$1.6MM cap hit; $1.76MM non-guaranteed salary in 2020/21; $1.9MM team option in 2021/22

Patton is the sort of under-the-radar trade candidate whose status is more important for financial reasons than it is for on-court ones. After all, the third-year big man has appeared in just four games this season, playing a total of 14 minutes. He's not a difference-maker for the Thunder and wouldn't be more than a project for any team acquiring him.
However, with the Thunder approximately $922K over the tax line – per Early Bird Rights – the idea of moving Patton might appeal to the team. Trading away the 22-year-old at the deadline and then replacing him with a player on a prorated minimum-salary within the next couple weeks would allow Oklahoma City to get out of the tax for the 2019/20 season.
Of course, the penalty for finishing $922K over the tax wouldn't be significant. But the Thunder have been a taxpayer for the last two years and would be subject to repeater penalties this season – and going forward – if they finish in the tax again this spring. Plus, sneaking below that threshold would mean profiting from the payments made by other taxpayers.
Unless they're committed to Patton's development or make another trade that gets them below the tax line, I'd be surprised if the Thunder don't make a move involving the center.
Revisit the rest of our 2019/20 Trade Candidate series right here.
Photo courtesy of USA Today Sports Images.