JANUARY 15: Chriss' two-way contract is now official, according to the Warriors.
JANUARY 14: Just days after waiving him, the Warriors intend to bring back Marquese Chriss on a two-way contract, reports Marc J. Spears of The Undefeated (Twitter link).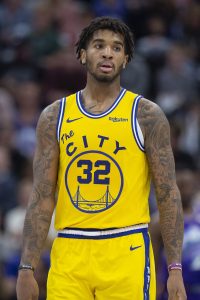 Chriss has spent most of the 2019/20 season with the Warriors and played well in a part-time role, averaging 7.4 PPG, 5.4 RPG, and 1.9 APG in 37 games (17.7 MPG). However, he was released last Tuesday in advance of the league-wide salary guarantee deadline because Golden State wanted to maximize its flexibility under the team's hard cap. The two sides were said to have mutual interest in a reunion.
The Warriors reportedly plan to promote two-way player Damion Lee to their standard roster to fill the spot that Chriss previously occupied, so the two players will essentially be swapping places. The pair of moves will need to be completed by the end of the day on Wednesday, since January 15 is the deadline for two-way signings.
Lee has already used his full 45-day NBA allotment this season but can be activated again once he signs a standard contract. As a newly-signed two-way player, Chriss will be eligible to spend up to 24 days in the NBA between now and the end of the G League regular season in March. Once the G League season ends, those restrictions will lift and he can spend the rest of the year in the NBA.
Head coach Steve Kerr had previously talked about Chriss potentially having a future in Golden State beyond 2019/20. The big man's new two-way contract will make him a free agent at the end of the season, but the Warriors will still have options for re-signing him, particularly if he isn't offered a sizable raise by a rival team.
Photo courtesy of USA Today Sports Images.