2:49pm: Chriss' new deal with the Warriors is now official, according to a press release from the club.
11:25am: The Warriors have reached an agreement to sign Marquese Chriss to a two-year deal, reports ESPN's Bobby Marks (via Twitter).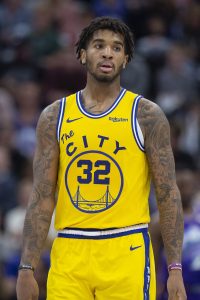 A promotion to the 15-man roster for Chriss, who had been on a two-way contract, had been widely expected after Golden State traded more than a third of its roster at the deadline. The Warriors' deadline deals left them with just nine players on their standard roster. The team has since reached agreements with Ky Bowman (promotion from two-way deal), Juan Toscano-Anderson (standard contract), Zach Norvell (10-day contract), and now Chriss.
A former lottery pick, Chriss earned the Warriors' final roster spot in the preseason and has averaged 7.9 PPG and 5.4 RPG in 47 contests (18.6 MPG) so far this season.
He briefly reached free agency last month when Golden State waived him before his 2019/20 salary could become fully guaranteed. He returned to the club on a two-way contract within a week and now will be moved back to the standard roster. Details of his new contract aren't yet known, but it figures to be a minimum-salary deal and probably won't be fully guaranteed for next season.
Even after completing all their reported signings, the Warriors will still have just 13 players under contract, so another move will be required to reach the NBA-mandated minimum of 14.
With Golden State moving both Bowman and Chriss to the standard roster, the team won't have any two-way players for the rest of the season, since the deadline to sign players to two-way contracts was January 15.
Photo courtesy of USA Today Sports Images.