Hoops Rumors is previewing the 2020 offseason for all 30 NBA teams. We're looking at the key questions facing each club, as well as the roster decisions they'll have to make this fall. Today, we're focusing on the Brooklyn Nets.

---
Salary Cap Outlook
With $133MM in guaranteed money already on their books for 2020/21, not including cap holds for free agents or their first-round draft pick, the Nets are assured of being over the cap and will almost certainly be over the tax line too.
If they want to sign any outside free agents, the Nets will be limited to the taxpayer mid-level exception ($5.72MM) and minimum-salary deals.
Our full salary cap preview for the Nets can be found right here.
---
Roster Decisions To Watch
Options:
Non-Guaranteed Contracts:
Two-Way Contracts:
Free Agents:
---
2020 Draft Assets
First Round:
Second Round:
The Nets traded away their own 2020 first-rounder (No. 17) in last summer's Allen Crabbe salary dump and gave up their second-rounder (No. 47) way back in 2014 in a deal involving Andrei Kirilenko.
However, Brooklyn received Philadelphia's first-round pick, via the Clippers, last June, in a trade that allowed L.A. to trade up to No. 27 for Mfiondu Kabengele. The Nets also acquired Denver's second-rounder when they accommodated a Kenneth Faried/Darrell Arthur salary dump during the summer of 2018.
---
Three Key Offseason Questions
1. So, are the Nets going to trade for a third star?

The idea that the Nets need to acquire a third impact player to complement Kevin Durant and Kyrie Irving has been floating around for much of the last year, with some midseason comments from Irving about the team's roster only fueling that speculation.
Brooklyn has little to no salary cap flexibility, so the idea would be to turn to the trade market, consolidating some of the club's depth to land a star, with Spencer Dinwiddie, Jarrett Allen, and perhaps even Caris LeVert serving as possible trade chips.
It's an intriguing concept, but it's not without its pitfalls. For one, it remains unclear which star players will actually be available on the trade market this offseason. If the Wizards don't want to trade Bradley Beal, the Nets can't exactly force them to make a deal. While we can usually count on at least one disgruntled NBA star at a time to be pushing for a trade, Victor Oladipo currently looks like one of the only candidates to potentially take that path this fall, and Oladipo's recent injury history compromises his appeal.
It's also unclear how much the Nets would even benefit from adding another ball-dominant impact player. Durant and Irving will want to take on a good deal of the play-making and scoring responsibilities in Brooklyn, so adding a third player who will need 17 or 18 shots per game may create more problems than it solves.
Complicating matters further is the fact that Durant and Irving are coming off major injuries, and Kyrie especially has a history of nagging health issues. Does it really make sense for the Nets to make a blockbuster deal that would sacrifice their depth and leave them vulnerable if any of their stars have to miss time next season?
I'd personally be surprised if the Nets shake up their roster in a major way this offseason before seeing what they have with Durant and Irving both back in their lineup. LeVert is a rising star himself on a reasonably team-friendly contract and should be given an opportunity to show his value on a healthy Nets roster rather than being traded for a player who wouldn't necessarily represent a significant upgrade, such as Oladipo.
That doesn't mean that Brooklyn shouldn't explore the trade market. There are some star players who don't need the ball a ton and could be pretty nice fits alongside Durant and Irving — they'd would be worth going after if they become available. For instance, I was intrigued by the possibility of a Rudy Gobert pursuit back when his relationship with Donovan Mitchell was described as being on the rocks.
But acquiring a third star isn't a must for Brooklyn this offseason. Most of the NBA's top teams in 2019/20 got by just fine with two All-Star caliber players, and the Nets have two of the best on their way back from the injured list.
2. Will the Nets re-sign Joe Harris?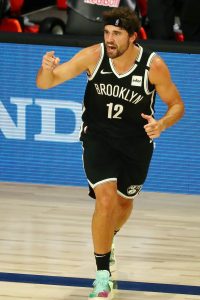 If the Nets don't end up making a major trade, re-signing Harris could be the team's most important roster move this offseason. Regardless of the team's plans on the trade market, it should be a priority. The over-the-cap Nets don't have many avenues to add outside talent anymore — taking advantage of Bird rights to re-sign their own key rotation players is crucial.
There will be no rules restricting Brooklyn's ability to make an aggressive offer to retain Harris, so it will simply be a matter of how far the team is willing to go into tax territory to make it happen.
The 29-year-old is still in his prime and has been one of the NBA's best shooters in recent years, knocking down 43.9% of his 1,150 three-point attempts over the last three seasons. That kind of outside shooting reliability is rare and it's coveted by NBA teams, so the Nets will face stiff competition from rival suitors for Harris.
Fortunately for Brooklyn, there are almost no contending teams projected to have cap room, and those that do – such as the Heat – likely won't be prioritizing shooters. If Harris' best outside offers are for the mid-level, the Nets should have no problem topping them.
However, the possibility of a non-playoff team with cap room – such as the Hawks or Knicks – making a run at Harris shouldn't be ruled out. Despite ostensibly still being in rebuilding mode, both clubs will be looking to get back into the Eastern Conference playoff picture sooner rather than later and should have plenty of money to spend this offseason.
A three-year offer in the range of $15MM+ annually wouldn't seriously hamper either the Hawks' or Knicks' ability to spend on other positions and would put a lot of pressure on the Nets. Since Brooklyn projects to be a taxpayer even before re-signing Harris, investing $15MM per year in him would cost the club substantially more in tax penalties.
I don't think the Nets will let Harris walk for nothing, so it might be a win-win for teams like Atlanta and New York to pursue him — even if they can't lure him out of Brooklyn, they could potentially hinder a conference rival's financial flexibility going forward by pushing his price tag higher.
3. What effect will Durant's and Irving's returns have on the Nets' chemistry?

It may not be a question that can be definitively answered this offseason, but it's safe to assume the Nets and new head coach Steve Nash will spend plenty of time considering how to balance the treatment of new stars Durant and Irving with the Nets' existing vets.
The Nets will likely view the 2019/20 Clippers as a cautionary tale. The Clips had one of the NBA's most talented rosters, but had trouble gelling and establishing positive chemistry over the course of the season. The preferential treatment that Kawhi Leonard and Paul George received was reportedly a source of frustration for some of the Clippers' incumbent players, and the club's inability to get on the same page played a part in its early playoff exit.
In Durant and Irving, the Nets will be led by two of the NBA's most mercurial stars, and it remains to be seen what kind of leader Nash will be. On top of that, players like LeVert, Dinwiddie, and Allen may have to accept more modest roles in 2020/21 than they had for the injury-plagued '19/20 squad. There are plenty of possible red flags here for Brooklyn, especially if the team experiences some growing pains to start the season.
Again, there's no way to iron out every potential chemistry issue before next season begins, but the Nets' front office and coaching staff should be doing all it can during the offseason to prepare to avoid the mistakes of this year's Clippers.
Information from Basketball Insiders and ESPN was used in the creation of this post. Photos courtesy of USA Today Sports Images.