As expected, Lakers veterans Anthony Davis, Kentavious Caldwell-Pope, and Rajon Rondo are officially opting out of their contracts in order to reach free agency, according to reports from Chris Haynes of Yahoo Sports, Shams Charania of The Athletic, and Brad Turner of The Los Angeles Times (all Twitter links).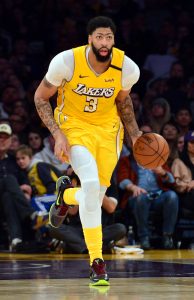 Those decisions had been considered formalities at this point, as reports a month ago indicated that Davis, Caldwell-Pope, and Rondo all planned to turn down their player options for 2020/21. Those plans have now been confirmed.
[RELATED: NBA Player Option Decisions For 2020/21]
Davis will technically be the No. 1 free agent on the open market this fall, but he's not expected to consider any pitches from rival teams. The plan is to re-sign with the Lakers for the maximum salary ($32.74MM), which is higher than his option salary ($28.75MM) would have been.
According to Dave McMenamin of ESPN, the Lakers intend to present several different contract options to Davis and agent Rich Paul and will work with him on the deal that makes him feel most comfortable. A five-year contract is considered unlikely — the two sides are more likely to agree to a two- or three-year deal that features a player option in its final season.
Rondo and Caldwell-Pope, meanwhile, are expected to receive plenty of interest from rival suitors. Turner cites the Clippers and Hawks as two clubs expected to pursue Rondo, whom the Lakers are reportedly bracing to lose.
As for Caldwell-Pope, teams are under the impression that he's open to offers, and he's expected to have several suitors, according to Charania, who previously identified Atlanta as one team likely to "emerge with interest." The Lakers and KCP are believed to have strong mutual interest — after having agreed to trade Danny Green, the Lakers will likely make it a priority to re-sign their free agent three-and-D wing.
Photo courtesy of USA Today Sports Images.