The Rockets and Pacers have officially completed their swap of high-scoring guards, with Caris LeVert going to Indiana and Victor Oladipo heading to Houston, Shams Charania of The Athletic tweets.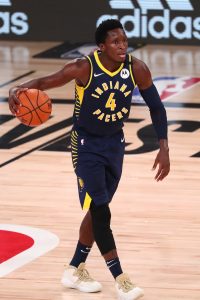 It's part of the four-team blockbuster that sent former Most Valuable Player James Harden to Brooklyn, even though all other aspects were officially announced earlier this week. LeVert was acquired by the Rockets in that trade.
The part of the deal flipping LeVert to Indiana initially looked like it would be completed as a separate transaction, which would've allowed the Rockets to maximize the value of a trade exception created in the original trade.
However, an additional second-round pick and cash are being sent to Indiana due to an issue discovered in LeVert's physical, per Charania, requiring the trade to be formally completed as a four-teamer.
[UPDATE: LeVert Out Indefinitely Due To Small Mass On Left Kidney]
In addition to Oladipo and a 2023 second-round pick (from the Rockets), the Pacers are also receiving cash and a 2024 second-round pick, says Charania. That additional pick, which is coming from Cleveland, was originally supposed to land with the Nets.
Per RealGM's list of traded picks, the two picks headed to Indiana will technically be the least favorable of Houston's, Dallas', and Miami's 2023 second-rounders; and the least favorable of Cleveland's and Utah's 2024 second-rounders.
With all aspects of the deal now completed, Harden is available to play Saturday for the Nets. Brian Mahoney of the Associated Press tweets.
Oladipo will be an unrestricted free agent at the end of the season and the Pacers feared they wouldn't be able to re-sign him. In contrast, LeVert is in the first year of a three-year, $52.5MM contract. Both players have missed time in recent years due to injuries, but are healthy and playing well this season.
"We want to thank Victor for what he gave to the Pacers through his play, his diligence in rehab coming back from a serious injury, and his community efforts," Pacers president of basketball operations Kevin Pritchard said in a statement confirming today's deal. "These decisions are obviously never easy and this one in particular was hard because of our relationship.
"Caris is a high-quality person who will fit in with what we as an organization are doing, on and off the floor. He's a versatile young talent who we think will be a great fit with the direction our team is taking. He can play multiple positions and affect the game at both ends of the floor."
The Rockets, meanwhile, could retain Oladipo and attempt to re-sign him beyond 2021 or could explore flipping him at the March 25 trade deadline. Houston can trade him immediately but would have to wait until after March 7 to move him in a deal that aggregates his salary for matching purposes. For now, the Rockets will probably want to see how Oladipo looks in their revamped lineup.
Because of the amended structure of the trade, the trade exception generated by the Rockets will be worth approximately $10.65MM instead of $15.45MM.
Photo courtesy of USA Today Sports Images. Luke Adams contributed to this story.