After acquiring D'Angelo Russell at the 2020 trade deadline and using the first overall pick in last fall's draft to snag Anthony Edwards, the Timberwolves entered the 2020/21 campaign expecting to be in the play-in mix.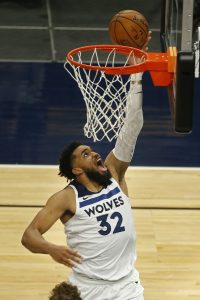 As was the case in 2019/20 though, Russell and franchise player Karl-Anthony Towns had trouble staying healthy at the same time. Through 50 games, Russell and Towns had appeared on the court together in just four of them. By that point, the Wolves owned a dismal 12-38 record, putting them well out of playoff contention.
There were some encouraging signs during the season's final weeks. Edwards had a big second half, flashing star potential, and the Wolves were actually pretty competitive when both Russell and Towns were on the court — the team had a 13-11 record in games the duo played. Still, Minnesota will have to take a major step forward in 2021/22 to have a realistic shot at a playoff berth.
---
The Timberwolves' Offseason Plan:
Despite finishing near the bottom of the Western Conference standings in each of the last two years, the Timberwolves don't have much cap flexibility going forward. Towns and Russell are on maximum-salary contracts, while Ricky Rubio, Malik Beasley, and Edwards are all earning eight-figure salaries. That means the team is unlikely to be a real player in free agency.
The Wolves badly need a starting power forward, however, and president of basketball operations Gersson Rosas figures to get creative in his quest to land one this offseason. If free agency isn't a viable path and the draft isn't an option (Minnesota doesn't have its first- or second-round pick), the trade market is the the club's best bet.
Despite the positive impact Rubio had on a young Wolves squad in 2020/21, he'll be a trade candidate due to his $17.8MM expiring salary. Jake Layman and Juan Hernangomez, whose contract is only guaranteed for one more year, also have expiring deals that could be useful in trades. But I wouldn't be surprised if the Wolves are more interested in shopping Beasley, who plays the same position as Edwards and still has $30MM in guaranteed money left on his contract over the next two years.
Although the Wolves had to send the No. 7 overall pick to Golden State to complete the Russell trade, they're expected to get an infusion of young talent by signing draft-and-stash prospect Leandro Bolmaro, last year's No. 23 overall pick. And conveying the 2021 first-rounder to the Warriors this season means all of the team's future first-round picks are freed up for future trades. Rosas has shown a willingness to be aggressive, so it wouldn't be a surprise if he's willing to include a first-rounder in a deal for a power forward.
---
Salary Cap Situation
Note: Our salary cap projections are based on a presumed 3% increase, which would result in a $112.4MM cap for 2021/22.
Guaranteed Salary
Karl-Anthony Towns ($31,650,600)
D'Angelo Russell ($30,013,500)
Ricky Rubio ($17,800,000)
Malik Beasley ($14,491,964)
Anthony Edwards ($10,245,480)
Juan Hernangomez ($7,012,440)
Jarrett Culver ($6,395,160)
Josh Okogie ($4,087,904)
Jake Layman ($3,940,184)
Jaden McDaniels ($2,063,280)
Total: $127,700,512

Player Options
Team Options
Non-Guaranteed Salary
Restricted Free Agents
Two-Way Free Agents
Draft Picks
Extension-Eligible Players
Josh Okogie (rookie scale)
Jaylen Nowell (veteran)
Naz Reid (veteran)
Ricky Rubio (veteran)
D'Angelo Russell (veteran)
Karl-Anthony Towns (veteran)
Unrestricted Free Agents / Other Cap Holds
Evan Turner ($27,909,834): Bird rights 3
Ed Davis ($6,506,955): Early Bird rights
Leandro Bolmaro ($2,353,320)
Aaron Brooks ($1,669,178): Non-Bird rights 3
Total: $38,439,287

Offseason Cap Outlook

The Timberwolves' $127.7MM in guaranteed money puts them well over the projected cap. They'll move closer to the projected tax line ($136.6MM) by guaranteeing Nowell's and Reid's salaries and by signing Bolmaro to his rookie contract.
While I expect Minnesota to explore moves that cut costs, it looks for the time being as if the team may forgo the full mid-level exception or the bi-annual exception — using either would hard-cap the Wolves at the tax apron, which figures to be in the neighborhood of $143MM, significantly hampering the team's flexibility.
Cap Exceptions Available
Taxpayer mid-level exception: $5,890,000 4
Footnotes
Reid's salary becomes fully guaranteed in mid-to-late August (exact date TBD).
Because he has been on a two-way contract with the Timberwolves for two seasons, McLaughlin is eligible for a standard minimum-salary qualifying offer.
The cap holds for Turner and Brooks remain on the Timberwolves' books from prior seasons because they haven't been renounced. They can't be used in a sign-and-trade deal.
This is a projected value. If the Timberwolves move further below the tax line, they could gain access to the full mid-level exception ($9.5MM) and the bi-annual exception ($3.7MM).
Salary and cap information from Basketball Insiders and RealGM was used in the creation of this post. Photos courtesy of USA Today Sports Images.