Any discussion about how injuries affected the 2021 NBA postseason probably has to start with the Nets and the Lakers, but the Nuggets shouldn't be overlooked. After acquiring Aaron Gordon at the trade deadline in March, Denver was firing on all cylinders and looked capable of seriously competing for a spot in the NBA Finals.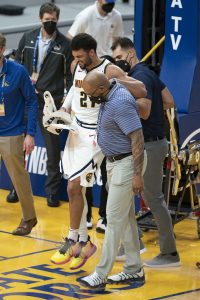 Those good vibes didn't last long though. After the Nuggets won eight of their first nine games with Gordon in the lineup, disaster struck in the 10th game, as Jamal Murray suffered a torn ACL that ended his season and will keep him sidelined for the start of the 2021/22 campaign.
The resilient Nuggets still finished the season strong and won a playoff series against Portland. But without Murray, who averaged 26.5 PPG on a scorching .505/.453/.897 shooting line in 19 playoffs games (39.6 MPG) in 2020, the odds of the team making a deep postseason run took a nosedive.
As tempting as it to imagine "what if?" scenarios about how the second-round series against Phoenix might have played out with a healthy Murray, the Nuggets have to turn their attention to figuring out how to make up for his absence to start next season — and how to put themselves in title contention again in 2022.
---
The Nuggets' Offseason Plan:
With Nikola Jokic, Michael Porter Jr., Murray, Gordon, and Monte Morris all under contract for next season, the Nuggets have an enviable core to build upon. Still, there are a number of rotation questions for the team to address this summer.
Will Barton ($14.7MM) and JaMychal Green ($7.6MM) face player option decisions after playing key roles for Denver in 2020/21. Barton, in particular, was an important part of the Nuggets' success, starting 52 games for the club and serving as a reliable secondary scorer and play-maker. Green's role was more modest, but he provided reliable depth at the power forward spot and could play the five if needed. The Nuggets, who would probably be just fine with both players opting in, will have to figure out how to replace or re-sign them if they opt out.
Meanwhile, Paul Millsap, JaVale McGee, and Austin Rivers will be unrestricted free agents. The club can withstand losing all three players if necessary, but their contributions shouldn't be overlooked. Millsap has helped stabilize the frontcourt defense during his time in Denver, while Rivers ended up playing big minutes for the team following injuries to Murray and Barton. I imagine the Nuggets will at least explore bringing all three players back, but if the cost is much higher than the minimum, they may let them walk.
Having already cashed in some of their trade chips for Gordon, the Nuggets seem unlikely to make another major splash in the trade market this offseason, preferring instead to add reinforcements using their draft pick (No. 26 overall) and the mid-level exception.
Whether or not Barton is back, I expect the club will be focused in free agency on finding a guard with some size who can play alongside Morris or Facundo Campazzo in the backcourt. If Green or Millsap returns to join Jokic, Gordon, and Porter, the frontcourt shouldn't be as high a priority — especially if the team believes Nnaji or Bol is ready to contribute.
Finally, it's worth noting that Porter will be extension-eligible this offseason and will likely be in line for a max deal or something close to it. While the idea of paying Porter the max with Jokic and Murray already on the books for big money may give the Nuggets pause, extending MPJ is probably the right thing to do — he's improving at such a rate that he'd still be a positive asset on a more lucrative contract, barring health issues.
---
Salary Cap Situation
Note: Our salary cap projections are based on a presumed 3% increase, which would result in a $112.4MM cap for 2021/22.
Guaranteed Salary
Nikola Jokic ($31,579,390)
Jamal Murray ($29,467,800)
Aaron Gordon ($16,409,091)
Monte Morris ($8,449,074)
Michael Porter Jr. ($5,258,735)
Facundo Campazzo ($3,200,000)
Zeke Nnaji ($2,498,760)
Bol Bol ($2,161,152)
Total: $99,024,002

Player Options
Team Options
Non-Guaranteed Salary
Restricted Free Agents
Two-Way Free Agents
Draft Picks
No. 26 overall pick ($2,096,880)
Total: $2,096,880
Extension-Eligible Players
Michael Porter Jr. (rookie scale)
Will Barton (veteran)
Vlatko Cancar (veteran)
Aaron Gordon (veteran)
Unrestricted Free Agents / Other Cap Holds
Paul Millsap ($15,000,000): Bird rights
JaVale McGee ($7,980,000): Bird rights
Austin Rivers ($1,669,178): Non-Bird rights
Troy Daniels ($1,669,178): Non-Bird rights 6
Richard Jefferson ($1,669,178): Non-Bird rights 6
Total: $27,987,534

Offseason Cap Outlook

The Nuggets will almost definitely operate over the cap this offseason, and should be able to stay out of tax territory.
Even if we assume Barton and Green pick up their player options, Dozier's salary is guaranteed, and the team keeps its first-round pick, that would result in about $125MM for 12 players. That would leave Denver with enough flexibility to use its full mid-level exception without crossing the projected tax line (which is in the $136-137MM range).
Cap Exceptions Available
Mid-level exception: $9,536,000 7
Trade exception: $5,325,000
Trade exception: $2,193,480
Trade exception: $1,620,564
Footnotes
Barton's decision is reportedly due by July 17.
Green's decision is reportedly due by July 26.
Dozier's salary becomes partially guaranteed ($200K) after August 16.
Cancar's salary becomes fully guaranteed after August 3.
Because he'll have four years of NBA service, Harrison is ineligible to sign another two-way contract.
The cap holds for Daniels and Jefferson remain on the Nuggets' books from prior seasons because they haven't been renounced. They can't be used in a sign-and-trade deal.
This is a projected value.
Salary and cap information from Basketball Insiders, RealGM, and ESPN was used in the creation of this post.