The rebuilding Grizzlies, who traded longtime cornerstones Marc Gasol and Mike Conley in 2019, exceeded expectations in '19/20. Rather than taking a step back with a younger roster, Memphis had its best season in three years, ultimately falling just short of a playoff spot in the Disney bubble by virtue of losing a play-in game to Portland.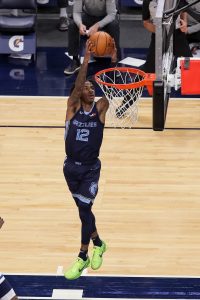 Some regression was expected in 2020/21, but no one told Ja Morant and the Grizzlies. Despite dealing with some health issues – presumed second option Jaren Jackson Jr. was limited to just 11 games due to a knee injury – Memphis took another step forward, finishing the season with a 38-34 record in a tough Western Conference and then winning play-in games over San Antonio and Golden State to make the playoffs for the first time since 2017.
In theory, continued improvement from Morant, who turns 22 next month, and a full season of good health from Jackson should make the Grizzlies even more dangerous next season. But growth isn't always linear, and it feels like Memphis probably needs to add some reinforcements to the current group to increase its ceiling. Fortunately, the team is in a pretty good position to do just that.
---
The Grizzlies' Offseason Plan:
Of the 17 players who finished the season under contract in Memphis, 14 remain under contract for next season, and the team can increase that number to 15 by exercising its option on Justise Winslow. The only free agents are Tim Frazier and Killian Tillie, neither of whom was a major contributor in 2020/21.
That means the Grizzlies are well-positioned to run it back with the current group, perhaps just adding another young player with the No. 17 overall pick and signing one veteran free agent to fill out the roster.
While the club could certainly go in that direction, I'd expect Zack Kleiman and his front office to be a little more aggressive in pursuing upgrades. The Grizzlies are loaded at certain positions and don't have any bad contracts on their books, meaning they're in a good spot to explore trades that consolidate their depth and land them a starting-caliber player.
That doesn't mean I expect the Grizzlies to be the frontrunner for a star like Damian Lillard or Bradley Beal should they become available (though Beal would be a great fit). Acquiring a player of that caliber would likely involve surrendering several first-round picks, and I'm not sure Memphis is ready to take that step, especially if the player in question isn't a lock to stick around long-term.
However, the Grizzlies certainly have the ammo to go after a second- or third-tier trade candidate — Kyle Anderson, Brandon Clarke, and/or Xavier Tillman, among others, could be included in an offer for such a player. And Memphis, which controls Utah's 2022 first-round pick (top-six protected) and Golden State's 2024 first-round selection (top-four protected), could afford to give up one or two first-rounders.
While none of their own key players are eligible for free agency, the Grizzlies' decision on Winslow will be an interesting one. The team gave up a couple solid trade chips (Andre Iguodala and Jae Crowder) and took on a pair of unfavorable contracts (Dion Waiters and Gorgui Dieng) at the 2020 trade deadline in order to acquire Winslow, but he hasn't given them much so far, playing just 26 underwhelming games in Memphis since that trade.
If the Grizzlies still believe in Winslow, exercising his $13MM option makes sense. The team has no cap concerns to worry about, and if things don't work out with Winslow, the downside is minimal, since he'll come off the books in a year. Still, if Memphis' faith in the former lottery pick is wavering, declining the option may be the right move — doing so would help create a chunk of cap room that could be used on a player more capable of making an impact in 2021/22.
The Grizzlies' other important offseason decision will be on Jackson, who is eligible for a rookie scale extension. After a season essentially lost to injury, the club may want to see more from the former No. 4 overall pick before committing to a lucrative, long-term deal. But if he's willing to accept a relatively team-friendly extension, it could be a good buy-low opportunity for Memphis before JJJ truly breaks out.
---
Salary Cap Situation
Note: Our salary cap projections are based on a presumed 3% increase, which would result in a $112.4MM cap for 2021/22.
Guaranteed Salary
Jonas Valanciunas ($14,000,000)
Dillon Brooks ($12,200,000)
Kyle Anderson ($9,937,150)
Ja Morant ($9,603,360)
Jaren Jackson Jr. ($9,180,560)
De'Anthony Melton ($8,805,976)
Tyus Jones ($8,376,286)
Grayson Allen ($4,054,695)
Brandon Clarke ($2,726,880)
John Konchar ($2,200,000)
Desmond Bane ($2,033,160)
Xavier Tillman ($1,517,981)
Jontay Porter ($300,000) — Partial guarantee. Non-guaranteed portion noted below. 1
Sean McDermott (two-way)
Total: $84,936,048

Player Options
Team Options
Non-Guaranteed Salary
Jontay Porter ($1,650,000) 1
Total: $1,650,000

Restricted Free Agents
Two-Way Free Agents
Draft Picks
No. 17 overall pick ($3,053,760)
No. 51 overall pick (no cap hold)
Total: $3,053,760
Extension-Eligible Players
Grayson Allen (rookie scale)
Jaren Jackson Jr. (rookie scale)
Kyle Anderson (veteran)
Tyus Jones (veteran)
Jonas Valanciunas (veteran)
Justise Winslow (veteran)
Unrestricted Free Agents / Other Cap Holds
Offseason Cap Outlook

If the Grizzlies waive Porter and keep their first-round pick, they'll have about $88MM in commitments for 13 players. Ultimately then, their cap outlook figures to come down to their decision on Winslow.
Should Memphis pick up Winslow's option, the team would still have a little cap room, but the difference between that space and the full mid-level exception for over-the-cap teams would be marginal, and the team may just decide to operate over the cap. Turning down Winslow's option, on the other hand, could help the Grizzlies generate $24MM+ in cap space, making them a potential player for some of the top free agents in this year's class.
Cap Exceptions Available
Room exception: $4,910,000 3
Footnotes
Porter's salary becomes fully guaranteed after August 18.
The cap hold for Dorsey remains on the Grizzlies' books from a prior season because it hasn't been renounced. It can't be used in a sign-and-trade deal.
This is a projected value. If the Grizzlies operate over the cap, they'd have the mid-level exception ($9.5MM) and the bi-annual exception ($3.7MM) available.
Salary and cap information from Basketball Insiders, RealGM, and ESPN was used in the creation of this post.