After four years as a solid playoff team in the West, the Jazz took a big step forward in 2020/21, finishing the season with the NBA's best record at 52-20. The club's regular season success was buoyed by an improved offense, with Mike Conley, Donovan Mitchell, and Bojan Bogdanovic playing key roles.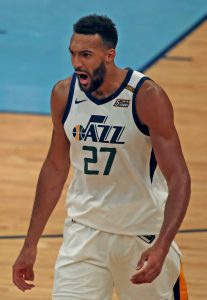 Always a strong defensive team since Rudy Gobert's emergence as a perennial Defensive Player of the Year candidate, Utah had ranked in the middle of the pack for several years on offense. But in '20/21, the team's 116.5 offensive rating was the NBA's fourth-highest mark and its +9.0 overall net rating was easily the league's best.
Unfortunately, the Jazz's dream regular season didn't translate to playoff success. Like a number of other clubs, Utah was hit with some bad injury luck at the wrong time, as Conley and Mitchell were both slowed by leg injuries in the postseason.
A knee injury to Clippers star Kawhi Leonard presented a golden opportunity for the Jazz to advance to the Western Finals anyway, but the club was unable to take advantage of the opening and was vanquished in the second round by an L.A. squad missing its leading scorer.
Now, Utah will head into the offseason trying to figure out ways to upgrade its roster despite the team's extremely limited cap flexibility.
---
The Jazz's Offseason Plan:
With former executive VP of basketball operations Dennis Lindsey transitioning to an advisory role, it'll be up to new head of basketball operations Justin Zanik to determine how the Jazz can contend for a title in 2022.
While only nine players have guaranteed contracts for next season, Utah is already on the hook for nearly $130MM in player salaries, and that total doesn't include Conley, who will be an unrestricted free agent this offseason. Re-signing Conley is in the Jazz's best interests — he had a productive 2020/21 season and the club won't free up any cap space to replace him if he departs.
A new contract for Conley could present some financial issues, however. Even if the point guard takes a pay cut to something in the $15-20MM range (about half of what he earned last season), his deal would take the Jazz well beyond the luxury tax line. The franchise is under new ownership, but we don't yet know whether Ryan Smith will have the stomach to pay a big tax bill for a roster that has yet to advance beyond the second round of the playoffs.
If the Jazz want to limit their tax penalties, there are essentially two options: letting Conley walk or cutting costs elsewhere. Neither solution is ideal. Conley would be nearly impossible to replace, but the club also doesn't have any obvious albatross contracts — all its highest-paid players are key contributors to the rotation.
Trimming salary in a trade could mean making veterans like Joe Ingles (one year, $13MM) and Derrick Favors (two years, $20MM) available. Ingles is entering his age-34 season, while the Jazz could probably find a cheaper backup center than Favors.
Jordan Clarkson (three years, $40MM) and Royce O'Neale (three years, $27.5MM) could also be trade candidates. However, Clarkson is an important scorer off the bench and O'Neale is one of Utah's most versatile defenders — and neither contract is unfavorable.
If Smith doesn't mind going well into the tax for at least a year, the Jazz could re-sign Conley and then look to reinforce the roster using the taxpayer mid-level exception. Since so few teams have cap room available this summer, Utah could realistically acquire a solid rotation player with that $6MM mid-level.
The Jazz could also make the No. 30 pick in this year's draft available for veteran help, though the return likely wouldn't be significant and the team might be better off trying to nail that pick. Adding an inexpensive contributor to the books for the next four years would help offset some of Utah's pricier contracts.
---
Salary Cap Situation
Note: Our salary cap projections are based on a presumed 3% increase, which would result in a $112.4MM cap for 2021/22.
Guaranteed Salary
Rudy Gobert ($35,344,828)
Donovan Mitchell ($28,103,500) 1
Bojan Bogdanovic ($18,700,000)
Joe Ingles ($13,036,364)
Jordan Clarkson ($12,420,000)
Derrick Favors ($9,720,900)
Royce O'Neale ($8,800,000)
Udoka Azubuike ($2,075,880)
Elijah Hughes ($1,517,981)
Total: $129,719,453

Player Options
Team Options
Non-Guaranteed Salary
Restricted Free Agents
Two-Way Free Agents
Draft Picks
No. 30 overall pick ($1,994,520)
Total: $1,994,520

Extension-Eligible Players
Bojan Bogdanovic (veteran)
Miye Oni (veteran)
Matt Thomas (veteran)
Unrestricted Free Agents / Other Cap Holds
Mike Conley ($39,344,970): Bird rights 4
Georges Niang ($1,669,178): Bird rights
Ersan Ilyasova ($1,669,178): Non-Bird rights
Emmanuel Mudiay ($1,669,178): Non-Bird rights 5
Total: $44,352,504

Offseason Cap Outlook
It's a safe bet that the Jazz will be over the cap and at least in the neighborhood of the tax line. Even without re-signing Conley, Utah may be limited to the taxpayer mid-level exception, since using the non-taxpayer MLE would hard-cap the team at the tax apron, which figures to be in the neighborhood of $143MM.
Cap Exceptions Available
Taxpayer mid-level exception: $5,890,000 6
Trade exception: $5,005,350
Trade exception: $2,024,079
Trade exception: $340,000
Footnotes
This is a projected value. Mitchell's salary will be 25% of the 2021/22 salary cap.
Thomas' salary becomes fully guaranteed after August 3.
Because he has been on a two-way contract with the Jazz for two seasons, Brantley is eligible for a standard minimum-salary qualifying offer.
This is a projected value. Conley's cap hit will be the maximum salary for a player with 10+ years of NBA service.
The cap hold for Mudiay remains on the Jazz's books from a prior season because it hasn't been renounced. He can't be used in a sign-and-trade deal.
This is a projected value.
Salary and cap information from Basketball Insiders, RealGM, and ESPN was used in the creation of this post.