AUGUST 12: Leonard has officially signed a four-year, maximum-salary contract that includes a player option in the final year, according to Haynes. The Clippers have issued a press release announcing the deal.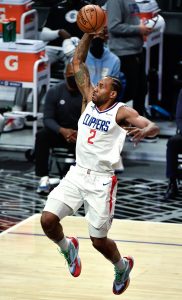 As our maximum-salary chart shows, the four-year contract will be worth about $176.3MM, as follows:
2021/22: $39,344,900
2022/23: $42,492,492
2023/24: $45,640,084
2024/25: $48,787,676 (player option)
As noted below, because Leonard only had Early Bird rights, he couldn't sign a five-year deal, so this is the longest and largest contract he could have received this offseason.
"Kawhi is a transcendent player and a relentless worker who improves himself every day," Clippers president of basketball operations Lawrence Frank said in a statement. "We share many of the same goals, which include a long-term relationship.
"This agreement marks another important moment for our franchise and our fans, as we strive to create a championship-caliber organization, where players find the success and fulfillment they seek. We're eager to continue building with Kawhi. For now, we will do whatever we can to support him in his recovery from injury. We look forward to seeing him back where he wants to be, on the court with teammates."
---
AUGUST 6: Free agent forward Kawhi Leonard won't be making a surprise departure from Los Angeles this summer, according to Chris Haynes of Yahoo Sports, who reports (via Twitter) that the two-time NBA Finals MVP has decided to re-sign with the Clippers.
While Leonard will be signing a new contract with Los Angeles, the exact terms of that deal are still being discussed, says Haynes.
Leonard turned down a $36MM player option on Sunday in order to reach free agency, since he's now eligible for a slightly higher maximum salary ($39.34MM). It seems safe to assume his new contract will be worth the max, so the two sides are likely weighing how many years it'll cover.
The Clippers hold the superstar's Early Bird rights, allowing for a contract of up to four years and $176MM. If he were to sign a one-plus-one deal with a second-year player option, Kawhi could make $39MM+ this season, then opt out to sign another new contract in 2022, when he has full Bird rights and could get up to five years from the Clips. Based on the NBA's latest salary cap projection, a five-year deal at that point would be worth over $241MM.
Leonard, 30, had another All-Star season for the Clippers in 2020/21, averaging 24.8 PPG, 6.5 RPG, and a career-high 5.2 APG on .512/.398/.885 shooting in 52 games (34.1 MPG). Despite missing 20 regular season games, he earned a spot on the All-NBA First Team.
However, after leading the Clippers to a first-round series win over Dallas and helping them pull to even in the second round vs. Utah, Leonard suffered a knee injury that ended his season and puts his availability for 2021/22 in doubt. He recently underwent surgery to repair a partial tear of his right ACL and has no set timetable for a return. The expectation is that he'll miss most – or even all – of next season.
Leonard's free agency, then, is reminiscent of when Kevin Durant hit the market shortly after tearing his Achilles in 2019 and received a four-year, maximum-salary commitment from the Nets. Brooklyn was confident that Durant would make a full recovery and the investment would pay off.
The Clippers appear to be of the same mindset with Leonard, as president of basketball operations Lawrence Frank said last week that Kawhi's ACL recovery will "require a great deal of time and we want to support him in that."
Of course, while Durant chose a new team following his Achilles tear, there was never an expectation Kawhi would leave Los Angeles, despite one report suggesting he was open to hearing pitches from other teams. Leonard chose the Clippers over rival suitors during his last free agency in 2019 and remains committed to the franchise going forward.