SEPTEMBER 4: The trade is official, according to a Brooklyn press release.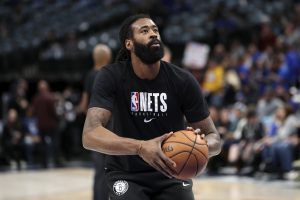 "We appreciate everything DeAndre has contributed to our organization over the past two seasons both on and off the court and wish him and his family the best moving forward," Nets GM Sean Marks said in a statement.
---
SEPTEMBER 3: The Nets and Pistons have reached an agreement on a trade, according to ESPN's Adrian Wojnarowski (Twitter link), who reports that Detroit will acquire center DeAndre Jordan, four second-round picks, and $5.78MM in cash. Brooklyn will receive Jahlil Okafor and Sekou Doumbouya in return.
The draft picks headed to Detroit in the deal are the Nets' own 2022 and 2027 second-round picks, plus the Wizards' or Grizzlies' 2024 second-rounder (whichever is more favorable) and the Warriors' or Wizards' 2025 second-rounder (whichever is more favorable), sources tell ESPN (Twitter link).
According to Wojnarowski, the plan is for the Pistons to work out a buyout agreement with Jordan, who has about $20MM left on his contract over the next two years.
The Nets had been trying for much of the offseason to find a taker for Jordan, a three-time All-NBA center who joined the team as a free agent in 2019 along with Kevin Durant and Kyrie Irving but fell out of the rotation in 2020/21. A report earlier this week indicated Jordan and the Nets were exploring a possible buyout — now it'll be up to the Pistons to complete those talks.
Although the Nets had to give up four second-round picks to dump Jordan's salary, the financial benefits will be significant. Jordan is making more than Okafor and Doumbouya combined this year and has multiple years left on his contract, while Okafor and Doumbouya are on expiring deals. Wojnarowski estimates (via Twitter) that the club will save $47MM in the deal after accounting for salaries and projected tax penalties.
That money could be reinvested in buying back second-round picks down the road. However, as Woj points out, Brooklyn is confident in its ability to acquire minimum-salary talent to complement its Durant/Irving/James Harden core, as the team did this week by reaching an agreement with Paul Millsap.
The Nets will also acquire a pair of players in the deal, though it's unclear if either Okafor or Doumbouya is in their plans. The team will have 14 players on guaranteed contracts and one (DeAndre' Bembry) on a partial guarantee even before accounting for the incoming Pistons. Perhaps the Nets will give Doumbouya – 2019's No. 15 pick – a shot, but I'd be surprised if they retain Okafor.
As ESPN's Bobby Marks notes (via Twitter), Brooklyn will create a $6.27MM trade exception in the swap, which is the difference between Jordan's $9.88MM salary and Doumbouya's $3.61MM figure. Okafor can be acquired using the minimum salary exception, so the Nets don't need to match his salary.
As for the Pistons, they'll take on some dead money as a result of this transaction, but the pros outweigh the cons. Detroit had traded away its own second-round picks from 2022 through 2026 in previous deals, so this gives general manager Troy Weaver a chance to restock his cache of draft assets. Additionally, the $5.78MM in cash the Pistons are getting in the deal – which is the max the Nets could offer – will help cover some of Jordan's salary.
On top of that, the Pistons had been facing a roster crunch, with 16 players on guaranteed contracts. A two-for-one trade, followed by a Jordan buyout, will reduce that number to 14, giving Detroit an open roster spot to work with. The club could give a camp invitee such as Jamorko Pickett the opportunity to earn that spot this fall or could simply carry 14 players to start the regular season.
Once Jordan is bought out, he'll be officially placed on waivers and will become an unrestricted free agent two days later. Multiple recent reports have suggested the Lakers are a suitor to keep an eye on, and Wojnarowski reiterates that point today (via Twitter), calling Los Angeles a "serious contender" to sign the veteran center.