10:30pm: Irving has officially opted in, according to RealGM's transactions log.
---
5:50pm: Kyrie Irving has decided to opt in to his contract for 2022/23, Shams Charania of The Athletic tweets. By exercising the $36.9MM option, Irving is bypassing multiple opt-in-and-trade scenarios in order to fulfill his four-year commitment to the Nets and Kevin Durant, according to Charania (Twitter links).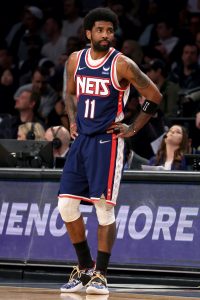 Irving is entering the final year of his four-year, $136.5MM deal.
"Normal people keep the world going, but those who dare to be different lead us into tomorrow," Irving said in a statement. "I've made my decision to opt in. See you in the fall. A11even."
By exercising his option, Irving is now both extension- and trade-eligible, though it doesn't sounds as if either is happening in coordination with the opt-in. The seven-time All-Star will remain extension-eligible up until next June 30 and could tack on up to four years to his expiring deal.
If Irving signs an extension exceeding two years, he would become ineligible to be traded for the next six months; if he's traded, he would be ineligible to sign an extension longer than two years for the next six months.
Irving's contract option technically has a base value of about $36.5MM, but the cap hit is $36.9MM due to likely incentives, and it can go as high as $37.7MM if he reaches all his incentives.
The opt-in closes the door on the possibility of Irving of taking a massive pay cut and signing with a new team, such as the Lakers, for the mid-level exception. However, it's unlikely the drama surrounding Kyrie will end any time soon — since he's now on track for unrestricted free agency in 2023, he could reemerge as a trade candidate within the next year if he and the Nets don't agree to an extension.
The Nets, who were reportedly unwilling to offer Irving a long-term contract, have been playing hardball in negotiations with the 30-year-old and essentially threw it in his lap to find a viable sign-and-trade scenario. He was unable to do so, which has led him to exercising the option, Adrian Wojnarowski of ESPN tweets. Irving had until 5:00 pm ET on Wednesday to officially make a decision on that option.
Earlier in the day, it was reported that the Lakers were the only team willing to engage in serious sign-and-trade talks with Brooklyn and they lacked attractive pieces to ship back to the Nets in a potential deal.
With Irving's future up in the air during the last week, multiple reports indicated that Durant was also mulling his options. But with Irving seemingly on track to return to the Nets for next season, Durant presumably won't be looking for an exit ramp out of Brooklyn.