9:25pm: The Heat have officially re-signed Martin, the team announced in a press release.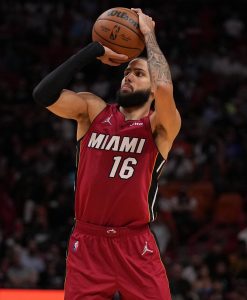 "Caleb is a multi-position player with tremendous energy that had a career year with us," Heat president Pat Riley said in a statement. "He works hard and deserves this as much as any young player in the league. We are extremely happy he has decided to come back."
---
11:26am: One of the NBA's top remaining restricted free agents is coming off the board, according to Anthony Chiang, who reports (via Twitter) that the Heat and forward Caleb Martin are in agreement on a three-year contract worth "about" $20.5MM.
The Heat only held Martin's Non-Bird rights entering this offseason, limiting their ability to offer him much of a raise after he finished the 2021/22 season on a minimum-salary contract. The terms reported by Chiang indicate that Miami will use the taxpayer portion of its mid-level exception to re-sign Martin and ensure that he gets a substantial pay bump.
As our breakdown of this season's MLE values shows, a three-year deal worth the full taxpayer mid-level exception would top out at about $20.4MM. Martin's deal will be fully guaranteed, sources tell Chiang (Twitter link).
Martin emerged as an important piece off the bench in Miami this past season, averaging 9.2 PPG and 3.8 RPG on .507/.413/.763 shooting in 60 games (22.9 MPG), which earned him a promotion from his two-way contract. He opted to just have his two-way deal converted into a rest-of-season contract rather than negotiating a multiyear deal, perhaps recognizing that he'd have a better chance of securing a raise in the offseason than he would have in February.
It turned out to be shrewd move by Martin and his representatives, as the $20.4MM in guaranteed money dwarfs his career earnings to this point. With P.J. Tucker's departure to Philadelphia, the 26-year-old Martin could be in line for a bigger role with the Heat in 2022/23.
As John Hollinger of The Athletic observes (via Twitter), signing Martin at the taxpayer mid-level exception likely means Miami will fill out the remainder of its roster with minimum-salary players in order to stay below the tax apron and maintain financial flexibility.