JULY 8: The Warriors have officially signed DiVincenzo, the team announced today in a press release.
---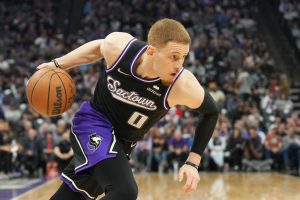 JULY 1: The Warriors and swingman Donte DiVincenzo are in agreement on a free agent deal, according to Shams Charania of The Athletic, who reports (via Twitter) that DiVincenzo will sign a two-year, $9.3MM contract with the team. It will include a second-year player option, Charania adds.
Given the Warriors' cap situation and the numbers reported by Charania, it appears the club will use a portion of its taxpayer mid-level exception to complete the signing.
DiVincenzo was a full-time starter on the Bucks team that won a championship in 2020/21, averaging 10.4 PPG, 5.8 RPG, and 3.1 APG on .420/.379/.718 shooting in 66 games (27.5 MPG) during that regular season. However, a major ankle injury sidelined him for most of the postseason and for a chunk of the '21/22 campaign.
The 25-year-old didn't look like his old self when he returned to Milwaukee's lineup, and the team traded him to Sacramento at the February deadline. DiVincenzo played better for the Kings, averaging 10.3 PPG, 4.4 RPG, and 3.6 APG with a .368 3PT% in 25 games (26.6 MPG).
Despite DiVincenzo's solid play down the stretch, he didn't receive a qualifying offer from the Kings, who shifted their focus to acquiring Malik Monk and Kevin Huerter to solidify their wing rotation. That decision made DiVincenzo an unrestricted free agent, meaning the former Villanova standout is free to sign outright with Golden State.
The addition of DiVincenzo will help make up for some of the rotation losses the Warriors have endured during free agency. Gary Payton II, Otto Porter, Nemanja Bjelica, and Juan Toscano-Anderson have all reached agreements with new teams since Thursday evening.
Based on the terms reported by Charania, the Warriors aren't using the full amount of the taxpayer mid-level exception on DiVincenzo, so they'll still have a small part of it available. They may use that leftover portion to sign second-round pick Ryan Rollins to a three-year contract instead of the maximum two years he could get using the minimum salary exception.