NOVEMBER 29, 4:02pm: The Mavericks have officially signed Walker, the team announced (via Twitter).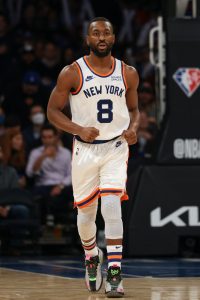 Walker's prorated minimum-salary cap hit will be $1,392,895. He'll earn $2,204,438 if his salary becomes guaranteed for the season.
---
NOVEMBER 29, 9:01am: Walker's one-year, minimum-salary contract with the Mavericks will be non-guaranteed, Stein reports (via Twitter). The veteran point guard isn't expected to play immediately after having sat out for nine-plus months, Stein adds.
---
NOVEMBER 28, 12:43pm: The Mavericks have officially waived Campazzo, the team announced (via Twitter).
Dallas' cap hit for Campazzo will be $464,299, tweets ESPN's Bobby Marks. That's 44/174th of his $1,836,090 salary, since he spent 42 regular season days on the Mavs' roster and will be on waivers for two more.
---
NOVEMBER 28, 7:12am: The Mavericks are in "advanced talks" with veteran guard Kemba Walker, Marc Stein reports in his latest Substack story. Dallas plans to sign Walker and waive Facundo Campazzo, according to Shams Charania of The Athletic (Twitter link).
The Mavs are hoping that Walker can provide another long-distance shooter and ball-handler off their bench, Stein adds. Dallas, which reached the Western Conference finals last season, has lost four straight games and dropped into 11th place in the West at 9-10.
Walker, 32, has been searching for another team since the summer, when the Knicks agreed to a deal to send him to the Pistons on draft night. Walker was expected to reach a buyout agreement with Detroit right away, but he was unable to find a guaranteed offer from another team. He was ultimately waived on October 17, shortly before the start of the regular season, and is being paid his full $9.17MM salary for this year.
Aa four-time All-Star, Walker was thrilled about the chance to play for his hometown Knicks after signing with New York in free agency last summer. However, lingering knee issues and a drop in production soured the relationship, and Walker wound up playing just 37 games and averaging 11.6 points and 3.5 assists per night.
Stein points out that Dallas planned to pursue Walker as a backcourt partner for Luka Doncic when he became a free agent in 2019. The Mavericks were originally viewed as the top threat to sign Walker away from the Hornets before the Celtics entered the bidding and ultimately landed him.
Walker was an All-Star during his first season in Boston, but the knee problems limited his effectiveness and he was traded to the Thunder in a salary dump in the summer of 2021. He reached a buyout with Oklahoma City two months later.
Campazzo, 31, signed a non-guaranteed deal with Dallas in mid-October after spending his first two seasons with Denver. He got into just eight games and averaged 1.3 points in 6.5 minutes per night.