Leading up to the February 9 trade deadline, we're keeping an eye on potential trade candidates from around the NBA. We're continuing today with a handful of players who can become restricted free agents in the offseason if they are extended qualifying offers. The full list of 2023 restricted free agents can be found right here.
---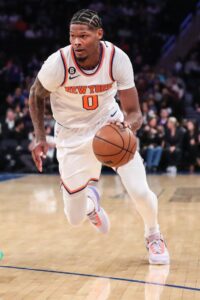 Like the rest of the players on this list, Reddish was a first-round pick in 2019, selected 10th overall out of Duke. He was a highly-touted prospect who has shown brief flashes of intriguing potential, but has struggled mightily with consistency, and his game hasn't translated all that well to the pros.
The 23-year-old is earning $5.95MM in the final year of his rookie contract. The Knicks have reportedly "redoubled" their efforts to trade Reddish, and are said to be seeking second-round draft compensation for him.
Considering his modest averages in 2022/23 (8.4 PPG, 1.6 RPG and 1.0 APG on .449/.304/.879 shooting in 21.9 MPG through 20 games), the fact that he's fallen out of New York's rotation, hasn't played a game in six weeks, and is essentially on an expiring contract, it's hard to envision Reddish having positive value at this point.
I understand why the Knicks are hoping to get assets back after giving up a protected first-rounder to acquire Reddish from Atlanta last season, I just don't view him as a rotational upgrade for the teams that are said to be interested in him, which includes the Lakers, Bucks and Mavericks.
Perhaps the Lakers will offer Kendrick Nunn and a second-rounder if they aren't able to package Nunn for something more appealing, but that just seems like making a trade for the sake of doing something. Regardless, Reddish is likely to be on the move ahead of the deadline.
White was the seventh overall pick in 2019 out of North Carolina. Like Reddish and many other young players who enter the NBA after one college season, the combo guard has struggled with consistency in his first four seasons.
However, White's circumstances differ from Reddish's in other respects. He seemingly fell out of favor when the new front office regime took over in Chicago, as he was drafted by the previous lead basketball executive, Gar Forman.
White's counting stats, minutes and production have declined since his sophomore season, which might give the impression that he hasn't improved. But he has become a better ball-handler, a more willing passer and efficient scorer, and puts in a lot more effort on defense.
A report last week indicated White, who makes $7.4MM this season, could be shipped out of Chicago if the Bulls look for a roster upgrade.
Thybulle is one of the more unique players in the NBA. He's among the top defensive players in the league, earning All-Defensive nods each of the past two seasons, but it's challenging to keep him on the court at times due to his very limited offensive skills.
Specialists like Thybulle used to be much more common. They have fallen out of favor in recent years because players are more well-rounded than ever before, and opposing teams have gotten better at exploiting weaknesses.
That said, if the Sixers do end up trading Thybulle, I highly doubt it will be to just dump his salary to dodge the luxury tax. His strengths are so striking that he should still have positive value, perhaps to a young team that believes it can develop his offense.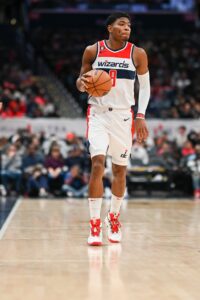 On the other end of the spectrum you have Hachimura, a talented scorer whose game is aesthetically pleasing because he can score in a variety of ways and plays with a physical edge offensively. However, he looks lost at times defensively.
When he's on, Hachimura can look like a future star – there isn't much you can do to stop him. The problem is, his jump shot runs hot and cold, he doesn't get to the free throw line as much as you would expect, he isn't much interested in passing, and he's just an OK rebounder.
The Wizards have reportedly discussed Hachimura, who turns 25 next month, in potential deals, with some teams out West said to be interested. I get the sense that the Wizards are open to moving him more because they want to re-sign Kyle Kuzma in free agency rather than get rid of the former lottery pick. He could help a team in need of bench scoring.
Washington is one of those jack-of-all-trades, master-of-none types who would appeal to many teams around the league. The Hornets are pretty tight-lipped and there haven't been any concrete rumors that they're shopping Washington, just a couple of reports that there was a difference of opinion on the value of his next contract.
The thing is, I think he would still have positive trade value even if he was making close to the $20MM per year he was reportedly seeking instead of $5.8MM, which is his current salary. That's more than I would personally want to pay him if I were a GM, but players that roughly fit the 3-and-D archetype are always in demand.
Washington met the starter criteria earlier this month, so his qualifying offer was bumped up to $8.5MM. I would be mildly surprised if he's moved.