The 2023 NBA trade deadline is behind us, but that doesn't mean teams are finished making roster moves. With nearly two months left in the 2022/23 regular season, there are still many roster spots to be filled around the NBA, as well as veterans who might not finish the year with their current teams.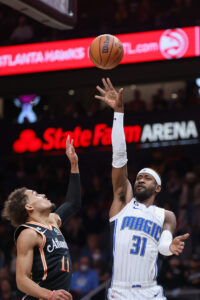 The NBA's buyout market has been active since the trade deadline and could feature several more moves in the coming days and weeks.
[RELATED: Hoops Rumors Glossary: Buyouts]
A veteran in an undesirable situation due to his playing time or his team's place in the standings (or both) could ask to be released and may even be willing to give back a little money to accommodate the move. Some teams might make that decision unilaterally, opting to release a veteran to open up a roster spot for a younger player.
Over the rest of the month, we'll use the space below to monitor the buyout market, keeping tabs on which veteran players have been bought out or released, and which have found new teams. We'll also keep an eye on players who are potential buyout candidates. The list will be updated daily.
A player on an NBA contract must be waived by the end of the day on March 1 in order to retain his playoff eligibility, so that will be a key date to watch.
Here's our breakdown of the 2023 NBA buyout market:
Last updated 3-10-23 (12:58pm CT)
---
Veterans who have been recently bought out or released and are free agents:
Not every player who has been cut since the trade deadline will be mentioned here. This list is essentially just made up of players with at least a few years of NBA experience who could be of immediate interest to teams in the playoff mix.
For instance, Terry Taylor was among the players cut by the Pacers at the trade deadline, but he's a 23-year-old with 59 NBA appearances on his résumé. He doesn't fit the profile of a traditional buyout market pickup for a contending team, and players like him won't be listed here for that reason.
---
Veterans who have been bought out or released and joined new teams:
Again, we're focusing here on players who fit the traditional buyout market profile.
The Magic signed center Goga Bitadze after he was waived by the Pacers, but Orlando is a lottery-bound team taking a flier on a young player, not a playoff contender looking for win-now help. That's why Bitadze and any similar players aren't listed here.
The one exception is Bolmaro, who is listed here because he gave up some money in a buyout agreement with the Jazz. He was never a player who was likely to be targeted by a contender, but since he technically did complete a buyout (instead of just being waived), we don't want to leave him out of our buyout market recap.
---
Other veterans who are candidates to be bought out or released:
We had viewed these players as possible buyout candidates, with some more realistic than others. However, they all made it through the March 1 playoff eligibility waiver deadline without being cut, so they appear likely to finish the season with their respective clubs.