[UPDATE: This trade was folded into the Durant blockbuster and turned into a four-team deal. It's now official.]
4:24pm: Eric Nehm of The Athletic has the details on the second-round picks the Bucks are trading in the three-team deal. They are as follows:
To the Pacers:
Either the Bucks' own 2023 second-round pick or the least favorable of the Cavaliers' and Warriors' 2023 second-round pick.

Note: If the season ended today, the Bucks would get the Cavaliers' second-round pick (which is less favorable than the Warriors' pick) and then would send the Cavs' pick to Indiana, since it's more favorable than Milwaukee's second-rounder.

The Bucks' own 2024 second-round pick.
The Pacers' 2025 second-round pick (which was traded to Milwaukee in a prior deal).
To the Nets:
The Bucks' 2028 second-round pick.
The Bucks' 2029 second-round pick.
As we relayed in a separate story, Terry Taylor is also being waived by the Pacers to help accommodate the incoming players.
---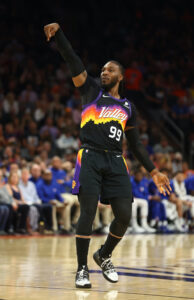 11:05am: Veteran forward Jae Crowder is being traded to the Bucks, according to Shams Charania of The Athletic (Twitter link), who reports that the Nets have agreed to a trade that will send Crowder to Milwaukee, with the Bucks giving up a total of five second-round picks.
Sources tell Charania (via Twitter) that it will be a three-team trade, with Bucks forward Jordan Nwora and two second-round picks (via the Bucks) heading to the Pacers. Indiana is waiving reserve center Goga Bitadze to make room for Nwora, Charania adds (Twitter link).
In addition, the Pacers will receive guard George Hill, an Indianapolis native who had a previous five-year stint with Indiana, and a third second-round pick, ESPN's Adrian Wojnarowski reports (via Twitter). Center Serge Ibaka will also be heading to the Pacers, per Charania (Twitter link). Both players were previously on the Bucks.
Here's the deal as we know it so far, with bits and pieces coming in over time:
Bucks receive Crowder ($10.18MM)
Nets receive two second-round picks via Milwaukee (not confirmed), save a ton of money toward the luxury tax
Pacers receive Nwora ($3MM), Hill ($4MM), Ibaka ($2.9MM salary, $1.8MM cap hit) and three second-rounders (not confirmed) via Milwaukee; will waive Bitadze.
The Pacers are one of only two NBA teams with cap space available — the Spurs are the other — so they can take on money without having to worry about matching salaries. As the deal stands, Indiana will have to waive two more players and its cap space is down to $1.9MM, tweets Yossi Gozlan of HoopsHype. Only Nwora is under contract beyond this season — Hill and Ibaka are on expiring deals.
Crowder, 32, has sat out the entire 2022/23 season while awaiting a trade. He was sent to the Nets as part of the blockbuster trade that will send Kevin Durant to Phoenix, and now will be rerouted to Milwaukee.
The Bucks had been linked to Crowder for months in trade rumors — they were recently granted permission to speak with him, and now they are finally acquiring him.
In 67 games (28.1 MPG) with Phoenix in '21/22, Crowder averaged 9.3 PPG, 5.3 RPG, 1.9 APG and 1.4 SPG on .399/.348/.789 shooting. He makes $10.18MM in the final year of his contract.
According to John Gambadoro of Arizona Sports 98.7 FM (Twitter link), Suns head coach Monty Williams spoke to Crowder over the summer to inform him that Cameron Johnson (who was also sent to the Nets in the Durant deal) would be the starting power forward in '22/23.
Crowder responded by saying he would prefer a contract extension or a trade. Evidently Williams found the 3-and-D specialist "too difficult to manage" and preferred to have him away from the team, per Gambadoro.
Bitadze is earning $4.77MM in the final season of his rookie scale contract. The former 18th overall pick has only appeared in 21 games for an average of 9.6 minutes per contest this season. He will become an unrestricted free agent if he clears waivers.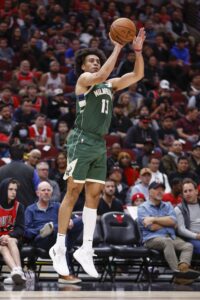 Nwora, meanwhile, was the 45th overall pick of the 2020 draft. He re-signed with the Bucks on a two-year, $6.2MM contract in the offseason, but hasn't played much, appearing in 38 games with averages of 6.0 PPG and 3.1 RPG in 15.7 MPG.
The 24-year-old has some offensive upside — he has converted 37.6% of his career three-pointers, including 39.2% this season. However, he's a subpar defender and obviously wasn't in the Bucks' long-term plans. The Pacers will be taking a flyer on him in addition to adding a trio of second-rounders.
Ibaka seems likely to be bought out or waived by the Pacers and headed elsewhere as a free agent. Hill is less certain — as previously mentioned, he likely he has fans in the organization due to his previous run with the team.